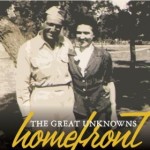 Sometimes you back into the meaning of an album.
I first heard the D.C.-based  "Great Unknowns' Home Front after meeting Altay Guvench, bass player for the the band, at the Americana Music Festival. He gave me an early promotional copy, which meant no liner notes, lyrics or press release.
And so I listened. I heard a solid band, a tasteful blend of country and rock, and regrets. Lots and lots of regrets.
There was " I Wish I Was the Girl I Was," "Wrong" ("I was wrong. Things were better then") and "Long Way Home" ("I was wrong and you were right.")
Punctuating the regrets are flashes of anger: "You've got a way with words, but it's a bad way."
All of that sadness was put into context this week amid publicity for the album's Jan. 10 release. From the band's press release:
"During that time, singer and primary songwriter Becky Warren struggled with a marriage that had become troubled when her soldier husband returned from Iraq with PTSD. When the marriage ended in 2010, Warren realized she had a lot to say, and wrote furiously, penning 12 new songs about love, loss, and the life-altering effects of war."
The narrative of Homefront had escaped me, but the emotions came through loud and clear. This is a powerful and honest album.