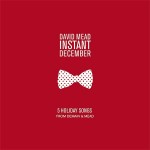 It's just five days until Christmas, but thanks to digital delivery, there's still time to buy a fresh batch of holiday music. Among recent releases of note:
– David Mead and Bill DeMain (of Swan Dive) have teamed up on Instant December, a five-song EP that is melodic, endearing and a little twisted. From the subtle sadness of "Christmas Eve 1942" to the slightly sinister "Black Friday Blues" and crazed "Happy Xmas Party," Mead and DeMain give us the holidays we know, love and dread. Buy it here.
– Iggy Pop sings "Little Drummer Boy" on Michel Legrand's new Noell! Noell! Noell!, which also features Rufus Wainwright and Teddy Thompson on "White Christmas." The album is nowhere as strange as you might think – and that's too bad.
– Victoria Shaw's Fa La La is buoyant and fun, particularly "Pink Flamingos," a co-write with Gary Burr. A bonus track features Shaw and daughters Ruby and Ava with a sweet cover of "The Chipmunk Song." It's available here.