Dec 8, 2013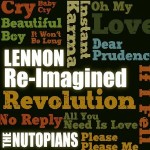 By Ken Paulson
We lost John Lennon 33 years ago today and we continue to both mourn the loss and celebrate his life and music.
This Thursday, a group of Nashville artists will gather at 3rd and Lindsley in Nashville for Imagine No Gun Violence, a concert and fundraiser featuring Lennon's songs. Performers include Tommy Womack, Bill Lloyd, Will Kimbrough, members of Poco and many more. It's always a highlight of the musical year, and in a town like Nashville, that's saying something. Tickets are still available.
Lennon work also continues to be celebrated in recordings, and the Nutopians' Lennon Re-Imagined is a particularly impressive example.
The Nutopians , founded by Rex Fowler of Aztec Two-Step and Tom Dean of  Devonsquare, bring a gentle sensibility to Lennon's music, with acoustic and harmony-laden renditions that work on multiple levels.
"Revolution" is a revelation, with Maggie Coffin distilling the familiar rock song into a conversation about the world and the need for change. Two medleys sung by Fowler - "Cry Baby Cry/Bunglaow Bill" and "Love/Oh My Love" are seamless and beautiful.
In these treatments, the lyrics resonate deeply – and unexpectedly. Alana McDonald's "Beautiful Boy" is sweet and sad, while the obsessiveness of "No Reply" come across as a little creepy.
The Nutopians take their name from Lennon's playful treatment of his immigration problems in the early '70s. Only true fans would know that, just as only true fans could create such a fun,  insightful and moving collection of Lennon's work. Highly recommended.
Follow Americana Music News on Twitter at @AmericanaToday.
.