May 15, 2013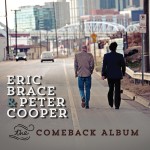 By Paul T. Mueller
"We are who we are, not who we're gonna be/ Every passing moment is ancient history," Eric Brace and Peter Cooper sing in "Ancient History," the first track on their latest CD, The Comeback Album. It's a good choice for an opener, a catchy meditation on identity, impermanence and possibility that name-checks a range of people and places including Muhammad Ali, Jerry Jeff Walker, Sid Bream and the Astrodome.
It's also a fitting start for a project by two Nashville singer-songwriters who seem to know a thing or two about personal reinvention. Brace is a former Washington Post music journalist who now runs the label that released this CD as well as fronting a band called Last Train Home; Cooper, among other jobs, is still writing about music (for The Tennessean in Nashville) as well as performing it and teaching college classes about it. As if that weren't enough, each has a solo album scheduled for release later this year.
Comeback, their third collaboration, is marked by the kind of literate songcraft you'd expect from people who make their living with words. Brace and Cooper wrote or co-wrote nine tracks and covered three others. Best bets among the originals include "Thompson Street," about a scruffy neighborhood in Spartanburg, S.C., and its colorful inhabitants; "She Can't Be Herself," a twangy and rueful goodbye song; "Nobody Knows," a bouncy ode to life's uncertainties, and "Boxcars," whose upbeat tone is at odds with its theme of loss and regret.
The covers are well chosen too: Tom T. Hall's "Mad," a classic country tale of carousing and consequences; Karl Straub's "Carolina," a sweetly played ballad of alienation, and David Halley's sad country waltz "Rain Just Falls."
To go with their own guitars and harmonized vocals, Brace and Cooper get some great backup here, from the likes of Lloyd Green on pedal steel, Dave Jacques on bass, Jen Gunderman on keyboards, Fats Kaplin on violin and mandolin, and Rory Hoffman on a host of instruments, from clarinet and accordion to practically anything with strings. Listed as "special guests" on "Mad" are Mac Wiseman and Marty Stuart on vocals (Stuart also contributes mandolin) and Duane Eddy on guitar.
This kind of music is about the storytelling as well as the playing, and Brace and Cooper excel at both.
Follow Sun209 on Twitter at @Sun209com.