By Paul T. Mueller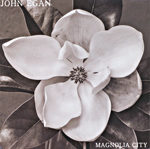 On his latest collection, Magnolia City, Houston-based singer-songwriter John Egan goes back to the basics – a stomp board, a couple of National steel guitars, and a voice well suited to a 10-song mix of classic blues and folk songs and well-crafted originals.
Although Egan seems comfortable fronting a band, he's more often to be found playing on his own, and he has said that Magnolia City is an effort to reproduce the feel of those solo gigs. It succeeds, fueled by Egan's skilled picking and slide work and his minimal but effective percussion. His singing is improving with age; here he demonstrates a range of styles, from the howling and growling of an old-time bluesman to more contemporary crooning as the material dictates.
The original songs include the soulful blues of "Harder Than a Stone," the gentle lament of "Looking for a Place to Fall" and the more raucous blues-rock of "Where the Angels Fly." The quiet tone of "It Ain't the Gun" contrasts with its tough-minded message, denouncing the violence that's become all too common in Houston and elsewhere. The introspective "Man I'll Never Be," also on the quieter side, deals with love and expectations.
John Egan pays tribute to a predecessor and fellow Houston bluesman with fine renditions of Lightnin' Hopkins' "Once a Gambler" and "Mojo Hand." He also takes on Townes Van Zandt's "Marie," and if his matter-of-fact reading of that ballad's sadder-than-sad lyrics doesn't quite match the pathos Van Zandt brought to them – well, whose could? More successful is a lively reimagining of Bob Dylan's "Maggie's Farm," featuring a little less twang in the vocals and a little more in the strings.
Clean production by Egan and Steve Christiansen complements the music, as does the CD's simple sleeve, featuring monochrome images by Houston photographer Ray "Texas Redd" Redding.