By Paul T. Mueller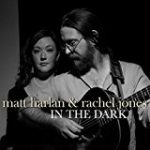 In the Dark marks a couple of changes of direction for Houston-based singer-songwriter Matt Harlan. He's now part of a duo; his musical partner and wife, Rachel Jones, has contributed to previous projects, but this time she gets equal billing on the CD cover and a much-expanded vocal role, of which she's more than worthy. And his songs are more about poetic abstraction – images and feelings – than the narrative of such earlier efforts as "Elizabethtown" and "Old Allen Road."
Case in point: In the title track, nothing much happens except some sitting – in a bar, at home – and watching the night give way to the day. The stylistic shift might be frustrating to fans of Harlan's storytelling skills, but there's a place for quieter, less linear songs as well. Harlan and Jones are good at this kind of thing, using their understated but expressive vocals as a vehicle for Harlan's literate lyrics. All of it is supported by his excellent guitar playing and contributions from some talented guests.
The album's only song not written or co-written by Harlan, "My Mother's Song (at Seventeen)," does feature a narrative of sorts. Written by Steve Dodson and Danny Jones, it's a dialogue of conflict and reconciliation between a parent and a child. "You look at me and disagree," Jones sings, "and shake your head and sigh." Guest vocalist Allison Fisher replies, "The thing that you don't understand is – we sing a different song." Later they harmonize on a conclusion: "The thing that you don't understand is – we see a different light."
Time is a recurring theme on In the Dark. "Move Slow" envisions "every day [as] a gift from somewhere else" and admonishes us to seize the day: "Just imagine all the time we'll never get to dance out in the thunderstorms." "Strangers on the Hill" laments the passage of time ("Simple story: Time drifts by") while casting a critical eye on how we choose to pass that time: "Obligations, tensions high: trying to live like the strangers on the hill."
Time and change also figure in "Mozart," which closes the eight-song set. "Mozart will always be Mozart, just like disco will always be dead," Harlan sings, but in contrast, "as long as I'm living I'm changing, with each drop of sweat that rolls off of my brow."
Matt Harlan and Rachel Jones share production credit; contributors include Tony Barilla on accordion and keyboards, Steve Candelari on drums and Willy T Golden on lap steel.