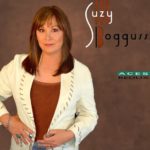 By Ken Paulson
Suzy Bogguss  was kind enough to join us a few weeks ago at the Country Music Hall of Fame for the re-launch of WMOT, Nashville's new Americana radio station. We had the chance to talk briefly about Aces Redux, a revisiting of Aces, her breakthrough album of 25 years ago.
She said her goal was to record the same songs, but with a more organic feel. She's succeeded.
You live and learn a lot in a quarter century and this new recording reflects both the strength of that original album and Bogguss' growth as an artist.
Three songs on the album – "Outbound Plane," "Aces" and "Letting Go" – soared into the country music Top 10 in 1991 and 1992, with "Someday Soon" nestled in at number 12. Still, the new release showcases the other charms on the collection, particularly "Save Yourself" and "Part of Me."