By Paul T. Mueller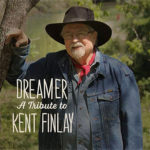 "I love my songwriters," Kent Finlay is reported to have said, moments before he took his last breath. Clearly the feeling was mutual.
James Kent Finlay was the owner of Cheatham Street Warehouse, a small music venue in San Marcos, Texas, that helped launch the careers of many Texas musicians – including, among others, George Strait, Todd Snider, Slaid Cleaves and James McMurtry. Finlay died last year at 77 (on March 2, Texas Independence Day), but his spirit lives on in this 14-track tribute, consisting of songs written or co-written by Finlay and performed by some of the artists who spent time at Cheatham Street. For those not familiar with his work, it's impressive proof that in addition to his nurturing of other artists, he was a fine songwriter in his own right.
Most of the musicians on the album are probably better known around Texas than nationally, but they all deliver polished performances that do credit to Finlay's songs. Terri Hendrix opens with "I'll Sing You a Story," which Finlay used to perform himself at the beginning of songwriters' night each Wednesday at Cheatham Street. Walt Wilkins covers "Bright Lights of Brady," a nostalgic look back at youthful yearnings. James McMurtry's weathered voice is a fine match for the grim outlaw ballad "Comfort's Just a Rifle Shot Away," and Brennen Leigh and Noel McKay give an excellent reading of "Yesterday's Oatmeal," a sad story of faded love and domestic disappointment.
From Finlay's younger daughter, HalleyAnna, we get "I've Written Some Life," which could be the autobiography of a lot of songwriters. Adam Carroll provides a nice rendition of "Be Nice to 'Em Son," a cautionary tale about the fleeting nature of fame and fortune, while Jon Dee Graham's gruff persona is well suited to the hard-living ballad "Taken Better Care of Myself."
Houston-based singer-songwriter Matt Harlan, who used to drive to San Marcos most Wednesday nights to play at Cheatham Street, does a fine job on "The Songwriter," which neatly sums up Finlay's philosophy: "Yesterday is all we have that's sure to last forever/Today will end in darkness, there's no doubt/But you can never make him stop believing in tomorrow/Tomorrow's all today is all about."
The album's last credited track is "Hill Country," Finlay's lament for the Central Texas region he loved, sung by Jamie Wilson of The Trishas. Its two final choruses feature the Hill Country Choir, a large cast of "fans and friends, songwriters and song lovers" recruited through social media to a Wednesday night recording session. Leigh and McKay return to close Dreamer with an uncredited rendition of "Saturday Night," a nice story of a cross-border, cross-cultural love affair.
The CD – much of it recorded in San Marcos just after Finlay's death – was ably produced by Jenni Finlay, Kent Finlay's firstborn daughter, and Brian T. Atkinson. The two are the authors of the recently published Kent Finlay, Dreamer, which details the history of Cheatham Street Warehouse and includes first-person recollections from dozens of artists.