By Ken Paulson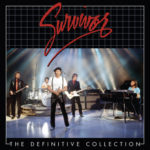 On one level, Survivor: The Definitive Collection is a rich anthology chronicling the best moments of a hard-working rock band from the '80s. On the other, it's a testament to the talents of Jim Peterik, an under-recognized rock songwriter whose hits span decades.
As lead singer and writer for the Chicago-based Ides of March, Peterik's "You Wouldn't Listen" just missed the Top 40 in 1966, followed four years later by the monster hit "Vehicle." In 1978, Peterik founded Survivor, which recorded 18 charting singles in a 9-year span, including 5 in the Top 10.
All of the hits are here, including the Rocky movie themes "Eye of the Tiger" and "Burning Heart," "Is This Love," "High on You" and "The Search Is Over."
Survivor played straight-ahead rock and the occasional power ballad. The music holds up well, largely because of the craftsmanship of Peterik  and co-writer and guitarist Frankie Sullivan.
The new collection includes Survivor's recording of "Rockin' Into the Night," an initially rejected song that made its way to .38 Special, who turned into it their first hit in 1980.
The liner notes for this Real Gone Music release include an interview with Peterik and an album-by-album recap of the band's history.
Here's the video from Survivor's biggest hit, with 197 million views on YouTube: