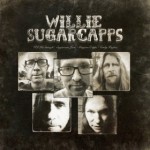 By Ken Paulson
We first saw
Willie Sugarcapps
in the Grimey's Record Store parking lot in Nashville this spring and for the record, there's no Willie. This is a band of friends with considerable musical talents and their energy and collective spirit fueled a fun and engaging set in the parking lot.
Willie Sugarcapps
consists of 
Will Kimbrough
, Sugarcane Jane (Savana Lee and Anthony Crawford), Grayson Capps and Corky Hughes, an amalgam in name and spirit.
Their impressive album feels homespun and acoustic, and sounds like someone set up recording equipment on the front porch.
Many of the songs are about life's basics: celebrating the birthday of a 93-year-old, repairing a relationship and just working your way through life.
Capps' "Poison" is a particular treat and natural sing-along: "Drink a little poison before you die."
And then there's "Willie Sugarcapps," the title track and self-mythologizing tale of a singer and multi-instrumentalist who we need more than ever:   "Folks are suffering all across this land, Woody Guthrie's long gone, won't you give us your helping hand?"
It takes a confident band to name itself, a song and album after a legendary figure they just made up. Bo Diddley would have approved.
Follow Sun209: Americana Music News on Twitter at @Sun209com.