By Ken Paulson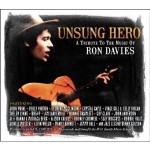 — Unsung Hero: A Tribute to the Music of Ron Davies is a remarkable collection of songs, all written by Davies, and performed by an amazing line-up of artists.
I'm not sure I've seen a tribute album this deep in talent and most of it is straight out of Nashville. Dolly Parton, John Prine, Alison Krauss and Rodney Crowell join another 18 artists in this salute to a talented and under-recognized songwriter.
I knew Davies' work primarily from the versions of his "It Ain't Easy," recorded by David Bowie on Ziggy Stardust and by Long John Baldry on the album of the same name. Impressive as those cuts were, Davies' catalog runs deep and it's showcased beautifully here.
His sister Gail Davies organized and produced the album to celebrate her late brother's work. Unsung Hero benefits the W.O Smith Music School in Nashville.
In his lifetime, Ron Davies must have generated a tremendous amount of goodwill. That's reflected in the roster of their performances and the clear admiration shown throughout.
The highlights include Jeff Hanna and Matraca Berg's version of Dark Eyed Gal, first recorded by Jeff with the Nitty Gritty Dirt band, Guy Clark's take on "Walk and Don't Walk," Krauss' "Good Lover After Bad" and Prine's "You Stayed Away Too Long."
But that just scratches the surface. This album is 22 strong songs deep, including performances by John Anderson, Jim Lauderdale, Delbert McClinton, Mandy Barnett, Crystal Gayle, BR549, Jimmy Hall, Suzy Bogguss, Vince Gill, Kelly Hogan, Kevin Welch, Jonell Mosser, Robbie Fulks, Bonnie Bramlett and Gail Davies.
Highly recommended.