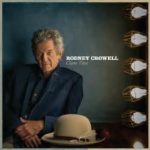 by Paul T. Mueller – There's a little looking forward, a lot of looking back, and more than a hint of unfinished business in Rodney Crowell's latest collection, Close Ties. The last comes courtesy of a couple of songs that reference Susanna Clark, wife of Guy Clark, Crowell's early mentor and later peer (and competitor). In "Life Without Susanna," Crowell describes her as "the most near perfect woman I'd ever seen" and "the most worthy opponent that I've ever known." But he also talks about the darker days that followed. "Life without Susanna started when Townes Van Zandt died," he sings "She made the bed inside her head a shelter… Nothing pierced the fortress inside her mind." In "Nashville 1972," Crowell describes his arrival in Music City and the beginnings of his complicated relationship with the Clarks: "I found my way around this town with a friend I made named Guy/Who loved Susanna and so did I."
Falling into the "looking back" category, in addition to the above, is "East Houston Blues," which recounts Rodney Crowell's hardscrabble childhood and adolescence. A glimpse of the future comes in "I Don't Care Anymore," in which the singer contemplates life with less concern with the trappings of success and more comfort with the man he's become.
Crowell's introspective bent manifests itself in "Reckless," in which he describes a dream fueled by the tension between temptation and guilt. In "Forgive Me, Annabelle," he sings of belatedly coming to terms with the end of a relationship, and with his responsibility for that event.
One of the album's more interesting tracks, in terms of both subject matter and songcraft, is "It Ain't Over Yet," which seems to take the form of a three-way dialogue between Crowell, Guy Clark and Susanna Clark. The song features John Paul White and Rosanne Cash as stand-ins for the Clarks, imparting such wisdom as "Here's what I know about the gifts God gave/You can't take 'em with you when you go to the grave" (Guy/White) and "I've known you forever and it's true/If you came by it easy, you wouldn't be you" (Susanna/Cash).
Close Ties works pretty well as a summing-up of an illustrious career. But there's also the sense that, at 66, Rodney Crowell has much more to offer.
Other notable guests include guitarists Steuart Smith, Tommy Emmanuel and Jedd Hughes, bassist Lex Price and Michael Rhodes, drummers Ian Fitchuk and Jerry Roe, and singer Sheryl Crow.