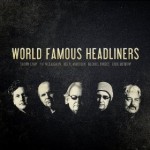 By Ken Paulson
–(The World Famous Headliners will perform at the Americana Music Festival on Sept. 14 at 10 p.m. at the Rutledge in Nashville.)
The World Famous Headliners' name is tongue-in-cheek, but at the band's core are some world-class songwriters.
Al Anderson (ex-NRBQ), Shawn Camp, Pat McLaughlin have teamed with the expert rhythm section of Michael Rhodes on bass and Greg Morrow on drums on a debut album that's all over the map musically and fun throughout.
I suppose the closest parallel was the union of Ry Cooder, John Hiatt and Nick Lowe in Little Village, but these guys are enjoying themselves a lot more.
"Give Your Love to Me" sounds like a lost Dave Edmunds track, "Mamarita" smacks of Little Feat and Levon Helm would have nailed "Ball and Chain." There's also some era-hopping here, with the classic country sound of "Heart of Gold" and "Take Me Back" and "Can I," a bit of garage rock that could have charted in 1967.
The debut album – derivative and original at the same time – will be released on Aug. 21.
Follow Sun209: Americana Music News on Twitter at @sun209com.