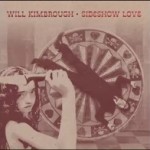 by Paul T. Mueller
On his seventh solo album, due for release in mid-February, Will Kimbrough turns away from Big Issues to focus on more personal matters. There are 12 songs on Sideshow Love, and they're all about one or more aspects of human relationships – love, sex, loneliness and various combinations thereof.
Check them off: Anticipated love ("When Your Loving Comes Around"), physical love ("Let the Big World Spin"), boastful love (the title track), practical love ("Home Economics"), and so on.
High points include "I Want Too Much," a confessional song that features some really nice acoustic picking; "Has Anybody Seen My Heart," a gentle lost-love ballad written with Joy Lynn White; and "Who Believes In You," co-written with Carter Wood and featuring some beautiful cello by engineer and co-producer David Henry.
Will Kimbrough is an excellent player, singer and producer, and his talents are on full display here. One could wish for a bit more poetry in his lyrics, but in light of his other contributions that seems a bit churlish.
Best, maybe, just to appreciate the moods and colors he creates with his guitar (and several other instruments) and his voice.
Follow the latest in Americana music news on Twitter at @Sun209com.