By Paul T. Mueller–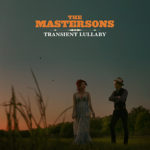 Transient Lullaby, the most recent album by The Mastersons – singer/guitarist Chris Masterson and singer/multi-instrumentalist Eleanor Whitmore – reads as an account of the couple's musical and personal lives. Marked by well-crafted lyrics and beautiful harmonies, these songs form an insightful look at the highs and lows of a life of almost constant togetherness, on and off the stage. They're backed by Masterson's excellent guitar playing and Whitmore's fine performance on pretty much anything with strings, including but not limited to guitars, violin, cello and mandolin.
The album's sequence seems to track the arc of a relationship; the 11 tracks cover a lot of emotional ground, and easy answers are in short supply. The first track, "Perfect," sums up the beginning of a relationship, with a mix of wariness – "You seem like a great find/But I'm broken, so please be kind" – and optimism – "We're not perfect, but we'll turn these tears to gold." Conflict surfaces in the title track, in the struggle between personal bonds and professional demands: "It's time to go/It's been great, but I can't stay long."
Several of the songs that follow explore, with sometimes painful honesty, the everyday conflicts that challenge relationships. The titles hold clues: "You Could Be Wrong," "Fight," "Don't Tell Me to Smile," "This Isn't How It Was Supposed to Go." But it's not all darkness. "You are my light," the couple sings on "Shine On." "We're gonna shine on/Gonna shine on."
By the end of the album, restlessness seems to have won out. "The time has come for us to part ways," Masterson sings on "Happy When I'm Movin',"the last "official" track. " 'Cause we both know/I'm happy when I'm movin'." That would make for a sad ending if not for the bonus track, "Anchor," which closes a lyrical circle by echoing a line in the opening track – "Can't you feel me? I'm your anchor" – with a similarly upbeat sentiment. " 'Cause I want to be right by your side," they sing. "I promise you/In a world untied, you're my anchor."
Instrumental support comes from Andrew Pressman and the late George Reiff on bass, David Boyle on keyboards, and Falcon Valdez, Cully Symington and Conrad Choucroun on drums.