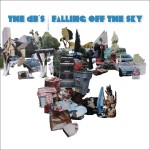 By Bill Lloyd
–When certain bands reunite, that re-bonding of friendships and talents can do much more than simply echo the past. These musical projects can often have a sense of purpose and pride that creates songs and sounds even stronger than their earlier work.
Everything you ever loved about the music to begin with will still be there and then some. This is what we have with the dB's reunion.  It's a case of all that and more.  Fans of  the dB's from their '80's heyday would be doing themselves a real favor to seek out their new album, Falling Off the Sky.
For those who need some background, the dB's were a band loved by critics and who had fans everywhere, but never sold a big number of records. Like Big Star before them, they were Southern-bred Anglophiles who instinctively followed their own muse and suffered being called "quirky" for their bravery.
The later success of younger bands from the South like R.E.M. helped broaden the musical landscape from the boogie and blues of the era, but the dB's paved the way for the change. The acclaim they were able to garner in nearly every important rock'n'roll publication of the era was a clarion call to anyone who appreciated smarts in their lyrics, melody in their songs and a fearless approach to arranging a pop song. They were an influential band to say the least.
Falling Off the Sky finds the original quartet of Chris Stamey, Peter Holsapple, Will Rigby and Gene Holder recording together for the first time since 1982. While principal songwriters Holsapple and Stamey recorded as a duo (Mavericks in 1992 and Here and Now in 2009), the foursome waited a long time to be dB's again.
Stamey was the first to leave the group after two albums in 1982 to make solo records and produce, which left Holsapple to front the band as the main singer and writer on Like This, The Sounds of Music and Paris Avenue. When Holsapple formed the alt-roots-pop super-group the Continental Drifters with former members of the Bangles, Dream Syndicate and Cowsills, hopes for a dB's reunion seemed slim.
Will Rigby recorded some solo records and drummed with Steve Earle and Matthew Sweet. Gene Holder mostly stayed in the studio working with bands like Yo La Tengo.  This new album sounds like the sum total of all that experience coming into play.
The opening track kicks off the album with a 60's-era garage-rock blast replete with combo organ. Holsapple singing "Wake up wake up.. That Time Is Gone."  So much for nostalgia. This is about here and now and it rocks.
Stamey follows with the rolling Beatle-esque "Before We Were Born." sounding like an Abbey Road out-take.  Much like the Lennon/McCartney dynamic, you can almost feel Peter and Chris shooting high to match and beat the last song from their musical partners.  Drummer Will Rigby, wrote the poppy "Write Back," a welcome surprise. His drumming has never sounded better. Send Me Something Real may be the album's highlight, both as a song and as a production piece. It's a joy to listen to it unfold.
Fans of Chris Stamey's chamber-pop leanings (anyone remember "27 Years in a Single Day" or "Something Came Over Me?") will be happy to have "Far Away and Long Ago."
Holsapple has another one of his heart-tuggers on the record with "I Didn't Mean to Say That."
It doesn't feel like there are false moves on this record. Some of the more experimental inclinations that may have lost the plot for some on past records have been either played down or left behind. The group started recording this collection of songs as early as 2005. There must be another album's worth of out-takes. I want that too, please.
Through the course of the album, the sonic quality and the band's performances as both players and singers are stronger than ever. Perhaps because of the accumulated experience working apart from each other or maybe because Chris Stamey, Gene Holder and long-time hometown compatriot Mitch Easter, who helps out here, are all terrific record producers. The fact that they took their time to do it to their own satisfaction shows a wisdom that comes with time.
The years may show, but only in the best way possible. Whatever factors came into play for this album to be as good as it is, they worked.  Falling Off the Sky may be the dB's best album.