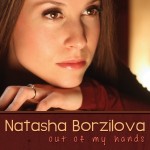 By Paul T. Mueller
–It's hard enough to write a CD's worth of intelligent, engaging songs in one's native language. To do so in one's second language, as Russia-born singer-songwriter Natasha Borzilova has with Out of My Hands, is a pretty impressive achievement.
On her third solo release (she's a former member of Bering Strait, a country band she started in her homeland and later brought to the United States), Borzilova explores themes including new love, lost love, depression, new motherhood, the loss of a parent and even Russian lullabies. She does this with a world-class voice and a Russian poet's sensibility.
For example, on "Gypsy," she sings, "I'm not asking for your heart/Just let me read your hands/I saw the future in your palms/But I didn't find myself." Combined with Billy Panda's beautiful mandocello, it's enough to break your heart.
Borzilova plays guitar, but her best instrument is her warm, expressive voice, which is capable of wide emotional and musical range. She uses it to great effect on the album, which she also produced.
Backing is provided by an impressive cast of Nashville veterans: guitarist (and bandleader) Panda, guitarist Bob Britt, bassist Alison Prestwood, drummer Tommy Harden and keyboardist Michael Rojas. Borzilova's husband, John Caldwell, recorded and mixed the album, and contributed some hip-hop vocals to "Long Night," which also features Borzilova singing verses from traditional Russian lullabies.

Follow Sun209: Americana Music News on Twitter at @sun209com.