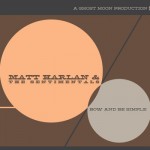 By Paul T. Mueller
–Ever wonder where songs come from? At a recent in-store performance at Cactus Music in Houston, Texas singer-songwriter Matt Harlan described the genesis of one of the best tracks on his latest CD, Bow and Be Simple. Headed east toward Louisiana early one morning, he watched the sun come up in a profusion of colors. The sky reminded him of the colors surrounding a black eye, Harlan said, and from the bright colors of that sunrise he built "The Ring," a dark song about a violent marriage and its sad consequences.
This is the kind of sharp observation and literate writing that make Harlan's songs such a pleasure to listen to. Folky, but with a little Texas twang, Bow's nine songs, most either written or co-written by Harlan, are brought to life by his gentle, expressive voice. They also benefit from the skilled backing of The Sentimentals, a Danish band with which Harlan has performed on both sides of the Atlantic.
Harlan tours a lot, with and without The Sentimentals – guitarist MC Hansen, bassist Nikolaj Wolf and drummer Jacob Chano. So it's not surprising that many of his songs focus on travel and movement. "I walk humble and patient/Along down the road/And I search for the truth/In the stories I'm told," Harlan sings on the title track. Fittingly, the CD was recorded in Denmark at the end of a tour last fall.
"Too Much Going On" is a nice duet in which Harlan and vocalist Rachel Jones lament the busyness that seems to get in the way of getting anything accomplished, while "Darker Shade of Grey" looks at what makes the world work and concludes that too often "it's the darker things that get the moving done."
The road shows up again in "Simple Song." At his Cactus show, Harlan said the song started out as his attempt to write a hit song about things like beer and trucks, but ended up being more about the process of trying (and failing) to write that song. "I tried to write a simple song, something closer to the truth," he sings, before later acknowledging, "But I ended up just ramblin' on… Ain't nothing changed… nothing's changed."
The traveling goes vertical in "Elevator Ride," in which Harlan sings, "Headed to the office on the 22nd floor/You know my head is getting dizzy, I stumble through the door." For many of us that's just another day at the office, but for a musician it's surely a nightmare. Guitarist Hansen's ominous chords form an oppressive backdrop to this slightly over-the-top tale of the middle-class grind.
By contrast, the deceptively named "The Easy Road" is about those unwilling or unable to follow the straight path to financial security. For reasons both external and internal, the song's three subjects are having a tough time getting by, never mind getting ahead. "[T]he easy road has taken us for granted," each concludes. "Seems as though we've taken it the same."
Hansen's "Baby Blue" is the one song on the CD not written or co-written by Harlan. At heart it's a kind of roundabout love song, but its lyrics wander from stars and rain to a house on a hill to "a dead skunk on the highway outside San Antone." The playing is pleasant enough, though, and includes some nice harmonica from Harlan.
The CD closes strongly with "Long Ride Home," essentially a love song, but one made a little sweeter by the loneliness of the road. "You're a ghost in every room that I sleep alone," Harlan sings. "Smiling at the end of every long ride home." Bow and Be Simple isn't an especially long ride, but it's a sweet one.