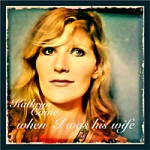 By Paul T. Mueller
–Singer-songwriter Kathryn Caine's fifth album is a nice showcase for her fine songwriting and expressive singing, and she helps her own cause by acting as co-producer. Caine is from Charlottesville, Virginia, so it's not surprising that the 12 songs on When I Was His Wife (10 of them written and one co-written by Caine) feature a bluegrassy country sound, with some folk and gospel influences thrown in to good effect.
Most of the tracks are anchored by the sharp acoustic guitar and mandolin of Andy Thacker, along with banjo by Tom Hogge. Other players include Darrell Muller on bass, James McLaughlin on drums and percussion, and Jay Starling on Dobro. Caine does an excellent job of accompanying herself on piano on three songs. Extra credit to McLaughlin, who co-produced the album and also recorded, mixed, engineered and mastered it.
With a few exceptions, Caine's subject matter tends toward the dark side – failed romance, hard times, drinking and regret are among the themes she explores. But she does it with skill, and the high quality of her singing and the band's playing keep the album from descending into depression.
Best bets include the title track, a bitter warning to an ex's new love; "Remember When," another post-breakup song but one with a gentler tone; "Nothing to Lose," an exploration of life's passages that features Caine's piano and singing that recalls Iris DeMent, and "The Whiskey Song," a duet with singer and guitarist Peyton Tochterman, who also co-wrote the song.
The album closes with a beautiful rendition of the traditional hymn "Abide With Me," again featuring Caine's piano and sweet but powerful voice. Kathryn Caine may not be a household name for most of us, but this collection deserves a listen.
Follow Sun209: Americana Music News on Twitter at @sun209com.