By Paul T. Mueller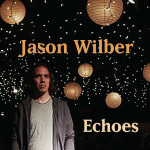 Jason Wilber is best known to many as the nattily dressed guy who stands to the right of the great John Prine on stage, playing guitar and mandolin and singing harmony. Wilber also happens to be a singer-songwriter in his own right, with nine solo albums to his credit.
The newest, Echoes, finds him performing songs by other writers. He's covering a lot of ground here – Leon Russell's "A Song for You," the Rolling Stones' "As Tears Go By," Pink Floyd's "Echoes," Joni Mitchell's "Edith and the Kingpin," David Bowie's "Oh You Pretty Things" and Stevie Wonder's "Overjoyed" are among the 11 tracks. Of course Wilber's boss gets his due, with a solemn reading of "Paradise," Prine's lament about the despoiled coal country of Kentucky.
Echoes follows several years' serious effort by Wilber to improve his singing voice, and while he will probably always be more noted as a guitarist than as a singer, his vocals do justice to the essence of these songs. The album benefits from spare but clean production by Paul Mahern, who also handled percussion duties, with help on a couple of tracks from Devon Ashley. The rest of it – guitars, bass and vocals – is all Wilber.