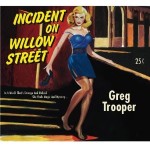 By Ken Paulson
I have no idea why Greg Trooper's outstanding new album Incident on Willow Street  features a cover worthy of a tawdry '50s paperback, but the "Don't judge a book by its cover" adage applies here.
Behind the cheesy imagery is a rich and rewarding collection from an extraordinarily consistent singer-songwriter . There's no substandard Trooper album; your only challenge is to decide which one to buy first.
Like every Trooper album, Incident is at once both despairing and hopeful. All the Way to Amsterdam" reflects the latter ,opening the album  with a dream of escape and restoration. Later in the album there's the regret-steeped  "Amelia," calling on a woman to come to her senses and come home.
"Living with You" is the closest thing to rock 'n' roll on the album, with my favorite line:"I think you have to sleep with me to prove I'm shooting blanks."
Trooper's sense of humor is most apparent on "Mary of the Scots in Queens," bemoaning how Irish Brian stole the woman of his dreams. "I always hated that Irish Brian," he sings.
There have been almost a dozen Greg Trooper albums to date and Incident on Willow Street is one of his strongest. Highly recommended.
Follow Sun209 on Twitter at @Sun209com