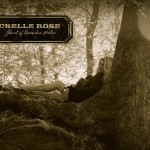 By Ken Paulson
—Ghost of Browder Holler is a striking new album by Chelle Rose, a Nashville-based singer and songwriter with roots in Appalachia.
Songs like "Browder Holler Boy," "Caney Fork Tennessee" and "Weepin' Willow on the Hill" reflect those rustic origins but it also sounds like copies of Beggars' Banquet and Let It Bleed made their way into the holler.
Rose has an honest and authentic sound; there's no compromise here. She marries that candor to blistering rock 'n roll on the robust "Alimony," an apparently autobiographical romp that begins: "Well, I married a man 'cause he was kin to Dottie West, found out it ain't exactly true, it was by marriage I guess."
It's a declaration of independence and the fireworks are all in the music.
"I Need You" shows the Rolling Stones' influence and "Rufus Morgan preacher man" is right out of the Tony Joe White tradition, right down to the "I'm going to tell you all a story about …" intro.
Clearly Chelle Rose has fought hard to get where she is today. And as "Alimony" attests, you'd better stay  out of her way.