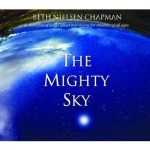 By Ken Paulson — It's the rare children's album that delights adults as much as kids , but that's certainly the case with The Mighty Sky,  a new album from  Beth Nielsen Chapman.
The album offers lessons in astronomy through a wide array of pop songs written by Chapman, Annie Roboff and Rocky Alvey, giving parents the chance to play spot-the-genre while their kids learn about the moon and stars.
There's the joyous pop of "Big Bang Boom," the doo-wop of "The Moon," the straight ahead "Rockin Little Neutron Star" (with Bill Lloyd and Steve Allen) and of course, the "Zodiacal Zydeco."  "You Can See the Blues" could have been written by Leiber and Stoller – if they had been astronomers.
Speaking of astronomers, the lyrics to The Mighty Sky were written by Alvey, the director of Vanderbilt Dyer Observatory in Nashville. They're both informative and engaging, teaching in the most entertaining and low-key way.
Highly recommended.
Follow Sun 209: Americana Music News on Twitter at @Sun209com.