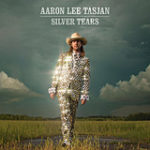 By Paul T. Mueller – With his new album Silver Tears, Aaron Lee Tasjan nails an impressive achievement – channeling a roster of worthy influences while remaining true to his own voice and vision. Tasjan, an accomplished singer-songwriter and guitarist based in East Nashville, leads off with "Hard Life," which does in fact deal with difficulties, but in a bouncy pop style that brings to mind Harry Nilsson. "Little Movies" casts life in cinematic terms – "Watch the day unfold in little movies / With silver tears that sparkle from my eyes" – recalling John Lennon in both its arrangement and its lyrics. The dramatic "Ready to Die" evokes Warren Zevon in its fatalistic lyrics ("I'm ready to die / For a worthy cause / It's 'cause I'm tired of feeling bad").
Tasjan, who's done stints with the New York Dolls and drivin n cryin in addition to his solo work, is a master of many musical styles, as shown here on the introspective ballad "Refugee Blues," the soulful twang of "Memphis Rain," the quiet folksiness of "On Your Side," the bluesy New Orleans vibe of "12 Bar Blues," and the exuberant R&B of "Success." All of it is driven by richly textured instrumental support, not least of which are Tasjan's excellent guitars. It's also peppered with lyrical wisdom. "One day, they said the future / Was flying cars and a ride on a rocket," Tasjan sings in "Till the Town Goes Dark." "Time passed and all I got / Was America today and a TV in my pocket." Credit to producer Eli Thomson and a fine group of supporting musicians.
In "Success," Tasjan observes, "Success ain't about being better than everyone else / It's about being better than yourself." Given that Silver Tears is his strongest and most consistent effort to date, that makes Aaron Lee Tasjan, by his own lights, a success. Listeners are likely to agree.