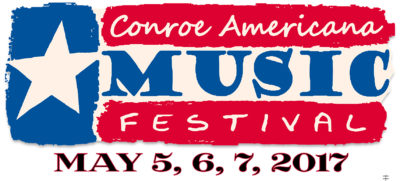 By Paul T. Mueller
Music gets another festival to call its own this year, with the Conroe Americana Music Festival set to debut May 5-7 in Conroe, Texas. The event, described by the promoters as "a grassroots premier festival featuring a mix of Bluegrass, Rockabilly, Folk, Texas Country, Roots Rock, Blues, and Americana music," will take place in Conroe's historic downtown, about 40 miles north of downtown Houston.
The festival's website, http://conroeamericanamusicfestival.com/, currently lists more than 50 scheduled performers. They include such well-known names as Bruce Robison and Kelly Willis (aka the First Couple of Texas Americana), John Fullbright, Billy Joe Shaver, The Mastersons, Gurf Morlix, Angaleena Presley, Dale Watson and Ray Benson, and Mike Farris. Of course, there's a heavy presence of Texas artists, familiar in the Lone Star State but possibly less well known elsewhere, such as bluesman Guy Forsyth; songstress Terri Hendrix, with longtime collaborator Lloyd Maines; rockers Uncle Lucius; former True Believer Jon Dee Graham; veteran folkie Eric Taylor; Houston-based honky-tonkers Mike Stinson and The John Evans Band; Austin-based blues-folkie Ruthie Foster, and Austin blues-rocker Carolyn Wonderland. The complete lineup can be found here and the schedule here.
With free parking and short distances between the festival's six venues, the weekend's toughest task figures to be deciding which performer to see at any given time. There are six venues – four indoor spaces and two somewhat larger outdoor stages – with scheduling seemingly set up in hopes of dispersing the crowd. For instance, the Friday lineup includes shows by Gurf Morlix and the Mastersons both at 9 p.m., at pubs located across the street from each other. Those sets will be partially overlapped by four other shows, including Hendrix and Maines and Austin-based bluesmen The Peterson Brothers. Scheduling dilemmas may be eased to some extent by the fact that some performers will play more than once.
As is often the case at the outset of such events, ticket prices are reasonable: $35 for a one-day pass for Friday or Sunday, $50 for a Saturday pass, or $75 for a three-day pass. Parking is free and food will be available from several food trucks.
According to the festival's website, the event was "(e)stablished through the Conroe Downtown Area Association (501c4) [and] the proceeds of the festival will be used to enhance the Historic Downtown Conroe area with improved signing and beautification projects."
The Conroe Americana Music Festival gets under way at 6 p.m. on Friday, May 5, and wraps up at 6 p.m. on Sunday, May 7.