By Ken Paulson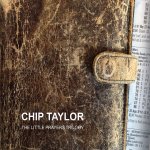 It's remarkable that the composer of one of pop's most shallow hits now writes and records some of America's deepest and most reflective songs.
"Wild Thing/You make my heart sing/You make everything groovy" is light years away from Chip Taylor's compositions on The Little Prayers Trilogy, his new three-CD collection on Train Wreck Records.
Though Taylor's early career included writing such hits as Wild Thing," "Angel  of the Morning" and "I Can't Let Go," he's carved out a less commercial path as a solo artist, beginning with a series of solo albums in the late '60s and '70s that foreshadowed the Americana genre.
The new album continues his recent run of personal  and often somber recordings. Behind the Iron Door, the first disc, includes two duets with Lucinda Williams (memorable on Taylor's earlier London Sessions Bootleg) and largely focuses on the oppressed. "Ted Williams" is not about baseball.  The surprise here, though, is the darkest Christmas song you've ever heard
Love and Pain, the second disc, includes the hauntingly self-aware Nothin' Coming Out of Me That I Like," which continues " Nothing prayerful and nothing respectful, so I think  I'll just shut me down  for a while and come back in a while and see who I am."
Little Prayers is the most sparse of the three discs, although the entire project is characterized by quiet, hushed vocals and minimal instrumentation. It's an astonishingly intimate recording; you'll hear every catch of breath, every swallow, every purse of the lips.
This is not background music. It demands your attention. That makes it rewarding, but not a particularly comfortable listening experience.
For Chip Taylor's long-time fans, the new collection is a thought-provoking bounty. For those new to Taylor's music, we'd suggest the more accessible Yonkers N.Y. or even Last Chance. In his sixth decade of making music, Chip Taylor is not coasting.
Tags
Related Posts
Share This