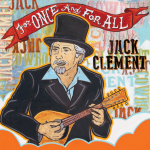 By Ken Paulson
I spent my day Friday interviewing nine members of the Nashville Songwriters Hall of Fame as part of an archival project and one name came up again and again: Cowboy Jack Clement.
The producer, songwriter and occasional artist had a knack for identifying talented young songwriters and artists and nurturing them. In Memphis at Sun Records, in Beaumont, Texas, and finally in Nashville, Clement made friends, helped build careers and made great records.
That's why it's no surprise to see so many remarkable guests on For Once and For All, the final Clement album , released 11 months after his death in August 2013.  Rodney Crowell, Vince Gill, Marty Stuart, Emmylou Harris, Bobby Bare, Duane Eddy, Dickie Lee, T- Bone Burnett, Buddy Miller, Dan Auerbach, Leon Russell, Gillian Welch, Dave Rawlings, Shawn Camp, John Prine, Dierks Bentley, Jim Rooney, Jim Lauderdale and Will Oldham are all on hand for this farewell album.
For Once and For All revisits 12 of Clement's songs, a number of which were first recorded by Charley Pride. Clement and Pride broke down racial barriers in country music, and made some great records in the process. "Just Between You and Me," "Got Leaving On Her Mind," "Baby is Gone" and "I Know One" are among Pride's best.
"Jesus Don't Give Up on Me,' with guitar by Duane Eddy, is the closest thing to a religious song on the record, but Peter Cooper sets the record straight in his liner notes: "Jack was about as religious as a corn cob, but he was a spiritual guy."
"The Air Conditioner Song" is a reminder that keeping our windows sealed may make us more comfortable, but there's beauty through an open window. Gill and Camp contribute background vocals and Joey Miskulin is on accordion.
It's all quite an informal affair, with gentle instrumentation and Clement's relaxed vocals.
I knew Jack just well enough to say hello, but I treasured every meeting. For Once and For All truly captures his spirit. Buy it for the joy.
Follow Sun209 on Twitter at @Sun209com.
Tags
Related Posts
Share This