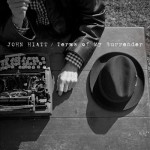 by Paul T. Mueller
John Hiatt's latest album Terms of My Surrender finds the veteran singer-songwriter pretty much in "old dude looking back" mode. "I've sang these songs a thousand times, ever since I was young," he sings in the first track, "Long Time Comin'." And there's this in the next track, "Face of God": "My eyes are blind from crying/don't know how many more tears I've got."
Grim stuff, especially considering that Hiatt, who just turned 62, is not exactly ancient. Still, he's been at this for a while, producing excellent work along the way – "Drive South," "Thing Called Love," "Crossing Muddy Waters," "Have a Little Faith in Me," "Slow Turning" – the list goes on. So he's earned his aging-bluesman persona, and with his gravelly voice and still-worthy guitar chops, he's pretty good at it.
There might not be anything on Terms that will get Hiatt much radio airplay (not that that seems to have been his goal – the album has a "because I want to" feel about it). But there's good material here nonetheless, all original, well written and well performed.
"Wind Don't Have to Hurry" is an eerie meditation on freedom and mortality, fueled by the spooky banjo of longtime collaborator Doug Lancio (who also contributes guitar and mandolin on various tracks). "Nobody Knew His Name" treads familiar ground – the mysterious stranger lamenting the long-ago loss of his true love – but Hiatt tells the story with his typical panache.
Hiatt knows his way around a funny song, and he's not afraid to paint in broad strokes. "Old people are pushy," he sings in "Old People," before describing a list of dubious behaviors – cutting in line, arguing with the checkout lady, driving too slow. "They can seem like sweet little old people," he sings of his newly embraced tribe, "but they're not about to kiss your ass."
Of course, it wouldn't be a Hiatt album without a few sweet love songs. Romance meets the blues in "Nothin' I Love," in which the narrator recounts his various vices and concludes, "There ain't nothin' I love good for me but you." He's accompanied here by some excellent guitar by Lancio (other contributors include bassist Nathan Gehri, drummer Kenneth Blevins and keyboardist Jon Coleman, with Brandon Young on backing vocals).
The title track is a gentle love song with a jazzy arrangement. "I can be rough, sometimes I can be tender, but I can't negotiate the terms of my surrender," Hiatt sings. "I love you too much, babe, go on and have your way with me." The album closes with the lively "Come Back Home," in which the narrator pleads for the return of a departed lover. "I'd take back every song, all that I've done wrong/I wish that you'd come home to me."
Terms of My Surrender benefits from fine production by Lancio, featuring clear, uncluttered arrangements that leave the focus on Hiatt's words.
Tags
Related Posts
Share This