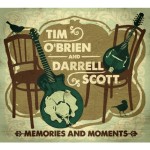 By Ken Paulson
Americana Music News — Tim O'Brien and Darrell Scott have teamed up again for an impressive new album called Memories and Moments.
This is their second studio album, with songwriting duties split between the pair, and a powerful new collaboration on  "Keep Your Dirty Lights On," a powerful environmental message.
We had the chance to talk to Tim about the new album at the American Music Festival in Nashville.
Follow Sun209: Americana Music News on Twitter at @Sun209com.