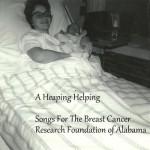 Americana Music News — Scott Ward alerts us to a new CD he produced to support The Breast Cancer Research Foundation of Alabama. It's an impressive compilation, including contributions from Shelby Lynne, Kevin Welch, Bekka Bramlett, Paul Thorn, Will Kimbrough, Christine Ohlman, Sailcat, Spooner Oldham, Greg Martin of The Kentucky Headhunters, the Oak Ridge Boys and Donnie Fritts.
It's also a good model for others seeking to raise funds for charity: a nice range of songs, easily downloadable as an album or as single tracks.
You can order it here.
Follow Americana Music News on Twitter at @sun209com.