By Ken Paulson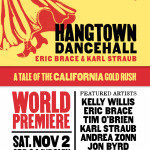 Hangtown Dancehall, an ambitious re-visiting of the tale of "Sweet Betsy from Pike" debuted tonight at 3rd and Lindsley  in Nashville with an all-star cast of artists. The musical, subtitled  "A tale of the California Goldrush," is the creation of Eric Brace (Last Train Home) and Karl Straub, based on a story by Brace.
Brace who grew up in the California community where the story is based,  has expanded upon the classic folk song, telling a saga of adventure, romance, greed and betrayal through narration and an impressive array of original songs.
Kelly Willis, Tim O'Brien, Peter Cooper and Brian Wright were among those who joined Brace and Straub onstage tonight, while the just-released Hangtown Dancehall album features Willis, O'Brien, Darrell Scott, Jason Ringenberg and many more Nashville-based talents.
It's a smart, engaging and musically diverse show that should have a future in theaters across the country.
.