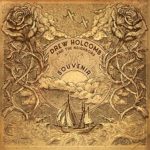 Americana Music News – This is a very big weekend for Drew Holcomb and the Neighbors. They're playing two nights at the legendary Ryman Auditorium in Nashville – and they just have to drive across the river to get to their shows.
East Nashville is home base for this talented band, currently touring in support of their excellent new album Souvenir. We wrote  briefly and approvingly about the album in February, but may have undersold it. This is a band with top-notch musicianship and a healthy respect for hooks. "California" still looms large in our personal playlist.
Some tickets are still available for the Friday and Saturday shows, with Joe Purdy and Penny & Sparrow opening on respective nights.