By Paul T. Mueller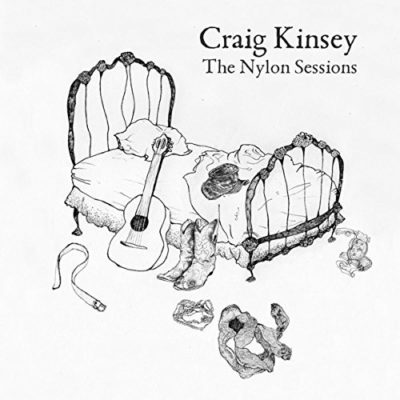 "This should tide you over until the next full studio album," read the words of Craig Kinsey on the back cover of his latest CD, The Nylon Sessions. No such disclaimer is needed. This 13-song collection from Kinsey, a singer-songwriter based in Houston, holds up just fine on its own. For the most part, the songs are unplugged renditions of previously recorded Kinsey originals – "songs in their bedroom, without formal attire or affectations," in his words.
Kinsey, who spent several years in an Arkansas monastery before earning a college degree and launching a career as a musician, is known in Houston for his theatrical stage shows, for which he often wears a top hat and employs burlesque dancers. The Nylon Sessions takes a much simpler approach. All but one of the songs feature Kinsey, an expressive singer who accompanies himself on a nylon-strung guitar (hence the title) and harmonica, plus one other player. The result is a worthy showcase for the thoughtful lyrics of the 11 originals and two covers – as well as for the skills of the supporting musicians.
The Nylon Sessions demonstrates Kinsey's comfort with several musical genres. Old-time country is represented by a beautifully understated reading of the Lefty Frizzell hit "Always Late (with Your Kisses)," with Kelly Doyle, of Robert Ellis' band, The Perfect Strangers, on synthesizer. Doyle's guitar is also featured on the jazzy "Bits and Pieces" and "Romulus and Remus." Other Ellis bandmates also contribute – pedal steel player Will Van Horn, on the straight-up country of "Cold Shoulder"; banjo player Geoffrey Muller, on the nice gospel workout on "Look at His Hands," and Muller on electric bass on an excellent cover of Bob Dylan's "You're Gonna Make Me Lonesome When You Go."
Houston-based trumpeter Aaron Koerner lends his jazzy chops to "Siddhartha's Dancers" and "Montrose Blvd. Blues," a fond, New Orleans-inflected tribute to the eclectic Houston neighborhood that has long nurtured the city's musicians and other artists. Sergio Trevino, front man of Houston indie/Americana band Buxton, provides nice harmony vocals on the folksy, irreverent "Atheist's Love Song."
The album's only solo effort is Kinsey's lovely solo rendition of "Green Grow the Rashes," Scottish poet Robert Burns' ode to the ladies. The closing track, another highlight, is the bluesy lost-love tale "After All," featuring Mike Whitebread on guitar.
"Simply songs. Words," Craig Kinsey calls this album. That's plenty.