By Bruce Rosenstein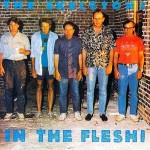 – If I could be magically transported to any roots-rock gig, I'd pick wherever guitarist D. Clinton (Donnie) Thompson and bassist Lou Whitney are playing, in whatever band configuration. For nearly 35 years, these Springfield, Missouri musicians have led excellent bands with a revolving cast of members under the names The Skeletons, The Morells and The Symptoms.
I've known Donnie and Lou since the late '70s, when Steve Leeds and I were planning the compilation, Declaration of Independents, for our short-lived label, Ambition Records. The LP contained Donnie's version of the Ventures' "Driving Guitars," and another Springfield contribution, Jim Wunderle's cover of the Seeds' "Pushin' Too Hard." (Jim was the lead singer of The Symptoms.) We also released a 45, under the name the Original Symptoms, of a cover of the Swingin' Medallions' "Double Shot of My Baby's Love," with Donnie, Lou and Jim on vocals.
The Skeletons/Morells/Symptoms haven't made it particularly big in terms of record sales or national recognition, but they have shown a genius for two valuable musical abilities: collaboration and interpretation. I have seen them as the backing band for Steve Forbert and Syd Straw, and they also formed the core of the band for a wonderful 1990 Jonathan Richman album, Jonathan Goes Country. Their album backing Syd Straw, War and Peace, is terrific. I saw the band backing Syd in 1996 at, of all places, the 25th anniversary of the Kennedy Center. Two moments in particular stand out: Donnie's blistering guitar on The Ramones' "Beat on the Brat," and Syd and Lou's duet on George Jones and Tammy Wynette's "We're Not the Jet Set." Individually or collectively, they have also collaborated with Dave Alvin, Robbie Fulks, Boxcar Willie and others.
As for interpretation, besides the covers mentioned above, they have put their own stamp on many songs written by others. The Skeletons' In the Flesh! CD includes versions of, among others, Sonny Bono's "Laugh at Me," Peter, Paul & Mary's "Very Last Day" and "Crazy Country Hop" by the recently departed Johnny Otis. All of the albums by the group contain covers, which demonstrate that you don't necessarily need original material to sound original.
I'll write a follow-up post on what the band members are doing today. But in the meantime, check out some of their recorded material, and if you can, listen to these musicians in person, in collaboration or on their own. In that setting, it is roots-rock music at its most thrilling and authentic.