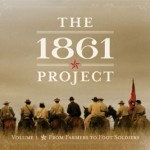 The upcoming Americana Music Festival in Nashville will feature a number of free shows open to the public. Prominent among these is an Oct. 15 performance of songs from the 1861 Project, a new album that recounts the civil war through song. From the original Sun209 review:
This ambitious, engaging and yes, educational project chronicles the Civil War through the perspectives of those who fought it.
The stirring John Anderson performance on "The Turning of a Field" foreshadows the events of the next four years, culiminating in the surrender at Appomattox and the soldiers' return home.
There are inherent challenges in a project that tries to recapture the emotions and spirit of an era long gone. The music has to be contemporary (the hit songs of the 1860s don't wear very well) and yet sound like they're of a kind with the time. Producer Thomm Jutz and a talented group of writers, including Peter Cronin, Charley Stefl, Jon Weisberger, Stan Webb, Irene Kelley and
Dana Cooper accomplish that nicely.
Jutz and Kelley are among the performers scheduled to appear at the free show.  The performance, staged in partnership with the Southern Festival of Books, is set for 2:30 pm on Oct. 15 on the Legislative Plaza in Nashville.