A round-up of new and recent Americana music releases: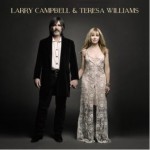 Larry Campbell and Teresa Williams – Red House Records – One of our favorite albums of the summer, the debut duo album from Larry Campbell and Teresa Williams has soared up the Americana music airplay chart since its release five weeks ago, and has just entered the top 10. Rightly so. Best known for their affiliations with Levon Helm and Bob Dylan, the couple has delivered a self-assured collection of soulful and compelling songs, with immaculate playing throughout, and guest turns from Amy Helm and Bill Payne.
Jason James – New West Records –  Jason James taps into classic country on his debut solo album, recording new songs with a decidedly familiar feel.  It's all honky tonk and heartbreak, just like they made them 50 years ago.  Set for release on August 21.
The Howl and the Growl – The Surreal McCoys –  Produced by Eric Ambel, The Howl and the Growl offers up straight-ahead, high energy rock and country. The Surreal McCoys will be featured at a showcase at the Americana Music Festival in Nashville on Sept. 17.
Back on the Old Stuff– The Tallent Brothers – Rocky and Brandon Tallent left David Allen Coe's band to record their own album, including a co-write with Pat McLaughlin on "There's  a Spirit." Release date: August 10.
Sure to Offend – Jim Pharis – Second album from Jim Phrais, who cites Leo Kottke,  Rev. Gary Davis, Merlre Travis and Bo Carter as his influences.
Old News – Dave Desmelik –  Dave Desmelik's 10th album revisits a dozen songs he's recorded over the past 16 years.
Long Gone Song – Nocona  – Long Gone Song is the second studio album from Nocona. The band's lyrics have a dark bent (see "Toothless Junkie"), but their sound is often spirited and adventurous.
Salvatella – Breadfoot – Jeezie Peezie Records – The fourth album from Breadfoot, whose music has been featured on Roadtrip Nation. Out this month.
Country/Folk – Well Worn Soles – – Debut album from Emerson Wells-Barrett and Chelsea Dix-Kessler features low-key country and folk, just as described in the title. Buddy and Julie Miller offer up a supportive promotional quote, calling the duo "some comfortable listening."
Tags
Related Posts
Share This