By Paul T. Mueller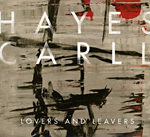 Texas singer-songwriter Hayes Carll made a splash with his last album, 2011's KMAG YOYO, which featured such raucous fare as "Stomp and Holler," "Another Like You" and the title track. On Lovers and Leavers, he turns inward, focusing on such themes as love, loss and struggle. The subject matter reflects Carll's challenges during the intervening years – divorce, vocal problems and new love, among others – but Lovers and Leavers is more than a collection of sob stories. The songs are full of insightful (and sometimes painful) observations that illuminate wider truths, and they're marked by fine playing, singing and production. With the help of a distinguished group of collaborators, Hayes Carll has succeeded at turning personal travail into good art.
Each of the 10 tracks is a co-write, with such illustrious names as Darrell Scott, Will Hoge, Scott Nolan, Jim Lauderdale and J.D. Souther, among others. From Carll and Scott we get "Sake of the Song," a concise overview of the musician's life and those who live it; "Love Don't Let Me Down," about hope and fear at the outset of a new romance, and "The Magic Kid," a touching tribute to Carll's young son (an aspiring magician who's been known to open shows for his dad) that touches on the larger themes of courage and truth. Hoge contributed to "Good While It Lasted," a clear-eyed look at the emotions, good and bad, that come with the fading of good times. "Nothing lasts forever and time knows that it's true," Carll sings. "Sometimes a little while's the best we can do."
Carll teamed with Jack Ingram and Allison Moorer on the sad but beautiful "The Love That We Need," a cautionary tale about settling for less than we should and finally facing up to that truth. "We lie down together/but our hearts never touch," Carll sings, later adding in the chorus, "We got the life that we wanted/but not the love that we need." A better side of love features in "Love Is So Easy," written with Ruston Kelly: "I've always had a hurt that I can't name/but it all feels better when you call my name."
The album closes with the lovely "Jealous Moon," written with J.D. Souther. Maybe no one else would have thought to lament the plight of Earth's lonely satellite, doomed to watch over the pageant of life without ever getting to participate. Carll and Souther did, and Carll – his voice apparently recovered from the problems of the past few years – does a fine job telling the story.
Carll is credited with all the guitar (all acoustic) on the album. Other musicians include Jay Bellerose on drums and percussion, Tyler Chester on keyboards, Eric Heywood on pedal steel and David Piltch on bass, all ably produced by Joe Henry.
Tags
Related Posts
Share This