by Paul T. Mueller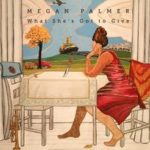 What She's Got to Give marks a real step forward for East Nashville-based singer-songwriter Megan Palmer. Palmer's earlier recordings, including 2012's Waycross, showed promise, but this one delivers on that promise, offering thoughtful lyrics, interesting arrangements and excellent playing and vocals.
Romantic difficulty lies at the heart of several of these songs. The oddly titled "The Only Trumpet" is an angry blast at a disappointing lover, while the bouncy tone of "Knifetwister" contrasts with its dark narrative about a bad girl behaving badly. Similarly, the sweet melody and gentle playing on the title track are at odds with its bittersweet theme – loneliness and the high price of trying to avoid it. "No one's listening to what she says she wants," Palmer sings plaintively, accompanied by intertwined guitar and piano lines. "They're just taking all they can, and she knows that's what she's got to give… She knows that it's never-ending."
The album's only cover is a nice rendition of John Hartford's "In Tall Buildings," which deals with growing up and accepting the drudgery of the 9-to-5 life. Again, the subject matter isn't all that pleasant, but the song is enlivened by some sweet harmony from vocalists including Emma Berkey, Ariel Bui, Nellie Clay and Dylan Lee Johnston (Amy Speace contributed vocals on other tracks). The album closes with an uncredited final track, the bluegrassy "Tomorrow's Gonna Make Up for Yesterday," which showcases Palmer's fine fiddle.
That fiddle is what Megan Palmer is probably best known for, but she's also credited here with guitar, piano, organ and harmonium, as well as vocals. Other players include Tim Easton on guitar, mandolin and harmonica, Larry Cook and Tony Scherr on bass, and Jon Radford on drums. Patrick Damphier gets credit for clean production and interesting arrangements, as well as guitar and vocals.
Palmer, who's dealing with a serious medical issue, was the beneficiary of a July 13 happy hour at Nashville's 5 Spot. Hosted by Rod Picott, the event featured performances by Wild Ponies (Doug and Telisha Williams), Tim Easton, Aaron Lee Tasjan, Amy Speace, Allen Thompson and "surprise guest" Steve Poltz. A GoFundMe campaign to help Palmer with her medical bills has been set up at https://www.gofundme.com/meganpalmer
Tags
Related Posts
Share This