New Americana, folk and bluegrass releases: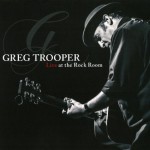 Live at the Rock Room – Greg Trooper – Due in June is Greg Trooper's Live at the Rock Room, recorded in Austin with Chip Dolan on keyboards and accordion and Jack Saunders on bass. It's Trooper's third live recording and a testament to his exceptional songwriting and performance skills.
Trooper has been a recording and touring artist for many years, a longevity that only comes with a compelling stage presence and catalog. The new album draws from recent albums, with themes ranging from quiet resignation ("They Call Me Hank") to enduring lust ("Mary of the Scots in Queens.")
Trooper writes about real lives and challenges; his "We've Still Got Time" is one of the best songs you'll ever hear about aging and romance.
Highly recommended.
Glory Bound – The Grahams – There's an ambitious new album and film on the way from the Grahams. Glory Bound  has a companion film Rattle the Hocks that explores the intersection of railroads and roots music. Our favorite track on Glory Bound is the driving title song. It begins with youthful regrets and then soars in window-rattling style.
Holidays and Wedding Rings – Jamie Lin Wilson – Also out Tuesday is a solo album from Jamie Lin Wilson of the Trishas.  Jon Dee Graham and Wade Bowen are among contributors to the set.
Onward – Christian Lopez Band – Blaster Records – Christian Lopez is a 19-year-old songwriter with West Virginia Roots. Produced by Dave Cobb.
Restless Youth – Deer Run Drifters –This is the second album from the Virginia-based roots band. Anthem in the making: "You Go to Hell, I'm Going Drinking."
Sour Bridges – Sour Bridges – The band calls its music "browngrass," explaining that it's bluegrass, "but a little dirtier."
Tags
Related Posts
Share This