A round-up of new releases: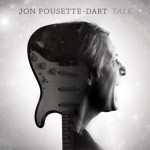 Talk – Jon Pousette – Dart – BFD – Best known for his successful run with the Pousette-Dart Band in the '70s, Jon Pousette-Dart continues to write and record rewarding music, as evidenced by his new collection Talk. The new album set for release on July 24, draws on blues and country, and features contributions by Reggie Young, Rhonda Vincent, Dan Dugmore, Jonell Mosser and Bekka Bramlett. It's very much a Nashville album, produced by Bill VornDick at Ronnie's Place, and with co-writes by Music City residents John Oates, Gary Nicholson and Angela Kaset.
The Deslondes – New West Records – This talented roots band draws on Sun Records in such an authentic fashion that the album probably should have been released on 78.  The California leg of the Deslondes' tour begins shortly with a date in San Franciso on July 14. They'll be at the Roxy in LA two days later.
Dear Elvis – Chris Cuddy – Vanishing Castle Recordings – Like the Deslondes, Chris Cuddy's nw album draws on rock 'n' roll inspirations of more than a half-century ago., and guests Albert Lee and Gene Taylor help him out on "Rock 'n' Roll History."
Come on Home – Dan Rodriguez – Dan Rodriguez is the singer and songwriter behind everyone's favorite commercial. It's his "Come on Home" that plays on the heartwarming Budweiser commercial in which a dog waits for his owner, who decides not to drive home impaired. That's a good jump start for an album that delivers on the promise of the song. Recorded in Nashville, Come on Home boasts strong songs and robust sounds throughout.
Migrate – Troy and Paula Hagg – Southern Gothic Productions Migrate is the second album from this North Virginia husband and wife duo. Troy sings and plays guitar, while Paula provides harmonies and percussion on this amiable and engaging collection.
American Shuffle – Hobo Nephews of Uncle Frank – Chaperone Records – The new album from the Minneapolis-based Hobo Nephews of Uncle Frank features two songs inspired by sports legends. "Old Number Four" celebrates the achievements of quarterback Brett Favre in nearby Green Bay, while "The Day Billy Martin Quits" chronicles the life of the fiery Yankee player and manager.
The Mallpass Brothers – Organic Records – The Mallpass Brothers deliver faithful treatments of classic country and honky-tonk songs on their new album. A handful of new songs complement familiar tunes from Hank Williams, Jack Clement and the Louvin Brothers, but it's all pretty seamless. Highly recommended for fans of vintage Marty Robbins and Merle Haggard.
Tags
Related Posts
Share This