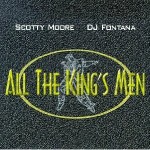 The Nashville Cats series of conversations with pivotal country, rock and Americana music artists continues Oct. 22 at the Country Music Hall of Fame, as Bill Lloyd interviews legendary drummer D.J. Fontana. Fontana was the drummer on Elvis Presley's earliest hits and appeared on almost 500 Presley recordings. He was also a prominent session player and has recorded with a wide range of artists, including Lefty Frizzell, Waylon Jennings, Paul McCartney, Dolly Parton, Carl Perkins, Keith Richards and Charley Pride.
The interview will begin at 1:30 p.m. at the hall, and is free with admission to the museum. The program will also be available as a live stream.
The program featuring Elvis' drummer comes weeks after a Nashville Cats appearance by James Burton, who played guitar for Elvis and Rick Nelson.