By Ken Paulson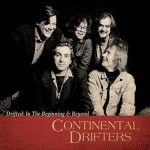 I last saw the Continental Drifters in a club in Columbia, Missouri more than a decade ago. The show wasn't widely publicized and the turnout was disappointing, with the band barely outnumbering the fans.
But that didn't matter to the Drifters, who played a great set, punctuated with one-on-one banter with audience members. Good people. Great band.
Drifted: In the Beginning and Beyond, set for release this Friday,  is a testament to the Continental Drifters' range and talent. Like the Band, the group tapped multiple lead vocalists, songwriters and players to creative a compelling collective.
The two-disc set showcases some rare and early Drifters recordings, reminding us that this was an Americana band well before the genre had a name.
Over time, the band expanded to include Susan Cowsill, the dBs' Peter Holsapple, and the Bangles' Vicki Peterson, and their recordings grew more melodic and pop-oriented.
As serious about their music as the Continental Drifters were, they were also playful. That's captured on multiple covers on the new collection, including Mike Nesmith's "Some of Shelley's Blues," Neil Young's "When You Dance I Can Really Love" and "I Can't Let Go," recorded by the Hollies and written by Chip Taylor. They nail every song.
Most remarkable is their live rendition of the early Beach Boys track "Famer's Daughter." It opens with the James Bond Theme, shifts into tight harmonies from Cowsill and Peterson, and absolutely soars.
The album also includes tracks from the band's 2001 EP Listen, Listen, a celebration of Richard Thompson and Sandy Denny of Fairport Convention.
Drifted is a fascinating overview of an underappreciated band and is an extraordinary gift to longtime fans.
Tags
Related Posts
Share This