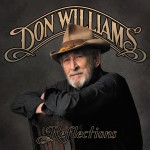 By Ken Paulson
There aren't a lot of sure things in life, but a Don Williams album happens to be one of them.
The 74-year-old Williams is back with Reflections, a new album on Sugar Hill. What you'll hear is exactly what you would expect: warm, relaxed vocals, simple and inviting production from Garth Fundis and classic songs from truly great songwriters.
The album opens with Townes Van Zandt's "I'll Be Here in the Morning," maybe the writer's most reassuring song and also the title of a fine biography of the artist. Williams makes it his own.
Treasures abound, including "Talk is Cheap" from Guy Clark, Chris Stapleton and Morgana Hayes, Jesse Winchester's "If I Were Free" and Merle Haggard's "Sing Me Back Home."
"Back to the Simple Things" by Mark Nesler, Jennifer Hanson and Marty Dodson offers up-tempo nostalgia, and a concise description of just why Williams has been so good for so long.
Reflections is a back-to-basics album in an era when that's just not done.  Highly recommended.
Follow Sun209 on Twitter at @Sun209com.
Tags
Related Posts
Share This