By Paul T. Mueller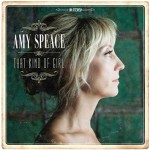 It seems a bit of a shame that singer-songwriter Amy Speace had to turn to crowdfunding to get her latest album released. Still, maybe making an album independently is the best way to end up with exactly what you want, and That Kind of Girl has that kind of sound about it. It's an excellent collection – 12 songs full of raw, honest emotion, beautifully conveyed by Speace's powerful, expressive voice. It also features skillful instrumental and vocal backup from a cast of outstanding musicians, including some of her East Nashville neighbors.
There's no filler here; these songs demonstrate Speace's mastery of songcraft, which should come as no surprise to those familiar with her previous work. Her writing – on this set she's credited as sole writer on three songs and co-writer on the rest – is clear and filled with the kind of nuance that can bring a smile, a tear or both. "You know you never really told me when you knew that you chose her," she sings in "Epilogue (I Don't Know How to Stop Loving You)," one of the solo efforts. "So I folded you inside my dreams, like an old concert poster." And, from "Raincoat," written with Katie Klim: "It's a strange kind of sadness/And it's hard to explain/You were my raincoat/You were my raincoat/You were my raincoat/Now you're the rain." It's a simple metaphor, but so effective.
The songs span a range of styles, from the soulful '60s vibe of opening track "Nothing Good Can Come from This" and the title track, to sad ballads such as "One Man's Love" and "Raincoat," to the vintage country sound of "Come Pick Me Up " and "Trouble Looks Good on You." There's also the jazzy, eerie feel of the spiritually themed "Three Days," the bouncy pop of "In Chicago" and the Irish air – somewhere between dirge and celebration – of the farewell song "Hymn for the Crossing" (the latter written with Irish songwriter Ben Glover the day after Pete Seeger died, according to Speace).
Credit for the fine production goes to Neilson Hubbard (who also did the mixing and contributed drums, percussion and vocals, plus co-writing two songs) The excellent supporting cast includes Will Kimbrough and Carl Broemel on guitars (the latter also on pedal steel), Dan Mitchell on keyboards, Eamon McLoughlin on violin, viola and mandolin, and Dean Marold on upright bass. Contributing vocalists include Glover, John Moreland, Garrison Starr, Tim Easton, Doug and Telisha Williams and Rod Picott.
Tags
Related Posts
Share This