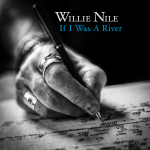 By Ken Paulson
Willie Nile's most recent albums American Ride and The Innocent Ones  were vibrant and energetic collections, full of anthemic songs. These were remarkably fresh recordings by an artist in his fourth decade in music.
But it appears that the key to that creative longevity is not to repeat yourself. The new If I Was A River is distinctly different from its predecessors. These are reflective and intimate songs played on piano. It's very spare, with Nile's rough-hewn vocal at the forefront.
The album boasts both a great love song (the title track) and a great break-up song in "I Can't Do Crazy (Anymore,) written with Danny Kortchmar.
The oddest song is "Lullaby Loon," a fun and presumably facetious rant against virtually all forms of music. In contrast, the truly affirming  "Let Me Be the River" comes at album's end.
If I Was A River is quiet and compelling. We may miss the rocker this time out, but we admire the songwriter.
Follow Sun209 on Twitter at @Sun209com.
Tags
Related Posts
Share This