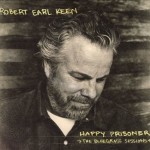 by Paul T. Mueller
Texas singer-songwriter Robert Earl Keen returns to his bluegrass roots with Happy Prisoner – The Bluegrass Sessions. There are a few rough spots among the CD's 15 covers, and the playing might not be quite pure enough for bluegrass fanatics, but it's well done and enjoyable.
Keen is no stranger to bluegrass, having developed a love for the genre despite growing up in Houston, not exactly a hotbed of Appalachian string music in the 1960s and '70s. In "The Bluegrass Widow," a song from his second album, 1988's The Live Album, he describes learning about bluegrass during high school and playing in a bluegrass band during college. The song, which Keen describes as "quite possibly the worst bluegrass song ever written," includes his account of being fired by his bandmates because he lacked "that high and lonesome sound that bluegrass music requires."
Having seen his budding bluegrass career derailed, Keen regrouped and went on to forge a successful career as a songwriter and performer. Decades later, his voice is, if anything, even less high and lonesome, but that didn't keep him from recording this belated tribute to his first musical love.
Standout tracks include "Long Black Veil," the much-covered ballad about crime, love and the price of loyalty; "T for Texas," with help from Lyle Lovett; "East Virginia Blues," a lost-love song by A.P. Carter; "Walls of Time," sung with Peter Rowan, who wrote the song with Bill Monroe, and the classic spiritual "Wayfaring Stranger," featuring vocals by ex-Dixie Chick Natalie Maines.
Not as successful is a cover of Richard Thompson's "1952 Vincent Black Lightning," one of those songs that are performed so definitively by their writers that there's little point in trying to cover them. Keen's version also suffers from the lack of an instrumental bridge, leaving an abrupt transition between the happy early verses and the sad later ones.
Along with his longtime band – guitarists Rich Brotherton and Marty Muse, bassist Bill Whitbeck and percussionist Tom van Schaik – Keen gets help from a talented group of players including fiddlers Sara Watkins, Dennis Ludiker and Chloe Keen (Robert's daughter), mandolinist Kym Warner and banjoist Danny Barnes. Lloyd Maines handled production and other technical duties.
Tags
Related Posts
Share This