By Paul T. Mueller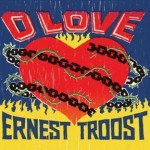 Any songwriter will tell you that if you want people to listen to your work, you need to grab their attention. Ernest Troost knows this, which is why the first song on his new album, O Love, starts out, "There was blood on the handrail and some on the floor." Who's not going to keep listening after that? "Old Screen Door," despite its innocuous title, delivers the goods – a narrative of violence in which the details aren't completely clear but the horror is. Troost fuels this rural gothic tale with vivid images – snakes, rats, fire and blood.
Troost attended Berklee School of Music and had a successful career as a film and television composer before turning to songwriting and performing. He was among the winners of the New Folk Award at the Kerrville Folk Festival in 2009; O Love, his fourth album, provides further evidence of his skills as a writer, a singer and a multi-instrumentalist.
O Love, not surprisingly, is billed as an album of love songs, and each of its 13 tracks does in fact concern some aspect of love – some more conventionally than others. The title track amounts to a prayer for deliverance – "O love, don't turn your back on me now / Well, I know you can touch this troubled heart somehow."
"Harlan County Boys" is a sweet but sad funeral tribute to a beloved grandmother who's lost most of the men in her life over the course of decades; it ends with the hope that she'll finally be reunited with them.
"The Last to Leave" is a goodbye of a different kind, exploring the pain of a relationship's end, while "Storm Comin' " is an allegory on the potential for love and its power to change a life. Other songs look at other aspects of love – loneliness, guilt, devotion and more – before the album closes with another goodbye song, "The Last Lullaby."
Troost backs up his lyrics with expressive singing and excellent playing, mostly in a folk-blues style. He plays a wide range of instruments, including guitar, bass, mandolin, organ and percussion, and co-produced the album (he's also produced two albums for Judy Collins). Other credits go to bassists Mark "Pocket" Goldberg and Dave Stone, drummers Ralph Humphrey and Steve Mugalian, fiddler Charlie Bisharat and lap steel player Johnny Hawthorn. Nicole Gordon contributes nice harmony vocals throughout.
Ernest Troost might not be the best-known singer-songwriter out there, but he's good at what he does. O Love is well worth a listen.
Follow Sun209.com on Twitter at @Sun209com.