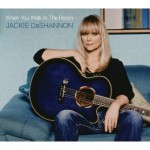 "When You Walk in the Room," Jackie DeShannon's first album in 11 years, is a remarkable retrospective of songs she wrote and others she made famous.
DeShannon is in the Songwriters Hall of Fame, but you have to wonder why she's not also in the Rock 'n' Roll Hall of Fame. Like Carole King, she wrote songs for some of the biggest names in pop and rock music, and carved out an impressive recording career long before female singer-songwriters were commonplace.
The new album features acoustic performances of DeShannon's finest work, including big pop hits written by others – "What the World News Now" and "Needles and Pins" – and her own versions of songs she wrote for others. The latter includes "Don't Doubt Yourself, Babe" (recorded by the Byrds) and the title song, which was a hit for both the Searchers and Pam Tillis.
DeShannon wrote "Bette Davis Eyes" with Donna Weiss for her "New Arrangement" album, but the song was rebuilt when Kim Carnes recorded it, and it became one of the biggest hits of 1982. DeShannon wisely does the Carnes arrrangment here, although your brain will want to supply the missing handclaps.
DeShannon stills sings beautifully, and the simple instrumentation and production bring the songwriting to the fore.
"Break-A-Way," a DeShannon song recorded by Irma Thomas and later, Tracey Ullman, is slowed down here. I'll admit I missed the original recording's energy, but this take puts the melody front and center.
James Taylor and Carole King were a huge touring and recording success last year as they revisited their hits on the Troubador tour. DeShannon and this new album are certainly in that league and deserve the same kind of attention.