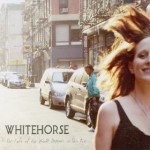 By Ken Paulson —
Whitehorse's The Fate of the World Depends On This Kiss entered the Americana music airplay chart this week and with good reason. Melissa McClelland and Luke Doucet are accomplished solo performers and their pairing here is remarkable. The music is ambitious and diverse, from the ornate "Achilles' Desire" to the sweet "Mismatched Eyes (Boat Song)" to the crunchy underpinnings of "Radiator Blues."
The album's highlight, "Devil's Got A Gun" opens like a James Bond theme, and gives way to impeccable harmonies.
The Fate of the World Depends on This Kiss is consistently adventurous and engaging. And it all works.
King's Bullet is another duo comprised of songwriters: solo artist Loni Rose and Music Row stalwart Trey Bruce. Like Blue Sky Riders and the Waymores, King's Bullet combines a fresh sound with an impressive history of songwriting success. Bruce was a co-writer on three number one country songs and many more hits.
They're calling this debut album an EP, but it's eight songs strong – contemporary country with a little attitude. Best tracks: "Watermelon Sun," and "I Won't Be Your Second Choice."
Rich Mahan's solo debut Blame Bobby Bare is fun and sometimes just goofy ("Mama Found My Bong," "Rehab's For Quitters"), but it's the soulful "Favorite Shirt" with back-up vocals from Bekka Bramlett that will stick with you. From Snortin' Horse Records.
The title song from Jesse Lafser's new album Land in Sight was inspired by Mark Twain's account of a near-tragedy at sea. That's a sure sign of a songwriter willing to explore intriguing turf, and this is a solid collection of smart and earnest songs.
Follow Sun209: Americana Music News on Twitter at @sun209com.