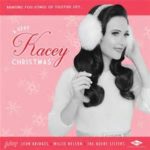 Americana Music News – Kacey Musgraves has a new holiday album, aptly titled A Very Kacey Christmas. She talked about the unconventional collection of Yuletide tunes in an interview on WMOT Roots Radio at the Family Wash in East Nashville yesterday.
There are standards – "Let It Snow" and "Have Yourself a Merry Little Christmas" among them – but plenty of surprises as well. There's the obscure 1953 hit "I Want a Hippopotamus for Christmas" and a cover of "The Chipmunk Song (Christmas Don't Be Late.)"
Guest appearances include Willie Nelson on "A Willie Nice Christmas," plus the Quebe Sisters and Leon Bridges.
Tags
Related Posts
Share This