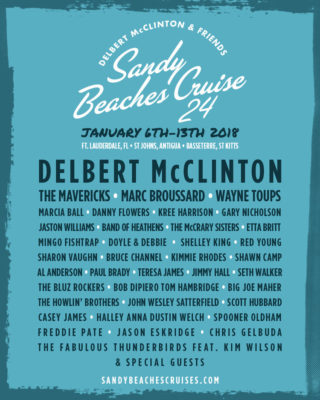 Americana Music News – Delbert McCinton's 24th annual Sandy Beaches Cruise has come to a close after a full week of varied and outstanding musical performances, including shows by the Mavericks, Marc Broussard, Marcia Ball, Teresa James and the Rhythm Tramps, Band of Heathens, the Howlin' Brothers, Paul Brady, the McCrary Sisters, Paul Brady, Danny Flowers, Wayne Toups and many more. We'll be rolling out a new podcast this Spring that will feature interviews with many of the artists, but in the meantime, here's a quick look at 10 of the moments that helped make the cruise special:
10. Bob and Etta Britt's rambunctious cover of Leon Russell's "Out in the Woods,"  with Bob channeling Leon's voice.
9. "Pianorama," an annual jam/shoot-out on a boat full of top-notch keyboard players. Always dazzling.
8. Bob DiPiero's game take on "Too Fat to Fly," a warped Christmas song about Santa's weight problem and the tension it causes with the reindeer. It was an audience request and DePiero seemed to be willing the lyrics to float to him from across the ether.
7. Aeronautics Professor and former NASA researcher Scott Hubbard spoke compellingly  about our progress in exploring Mars.  No, it's not standard music cruise fare, but it works.
6. The transformation of world-class songwriter Gary Nicholson into white-suited bluesman Whitey Johnson, setting the stage for a raucous R&B party.
5. The mere presence of  Spooner Oldham, Red Young and Bruce Channel.
4. Jaston Williams of "Greater Tuna" fame's monologue about his boyhood infatuation with the Beatles, and his cowboy father's stunned disapproval of the Fab Four.
3. The Mavericks' note-perfect cover of the Bee Gees' "How Can You Mend a Broken Heart?"
2. Al Anderson's blazing solo sets, tapping into his NRBQ songlist, from "Riding In My Car" to "Never Take the Place of You. "
1. "Delbert and Friends:" That's how the Sandy Beaches Cruise is billed, and it's also the key to the cruise's charm. Virtually every artist has played a role somewhere in Delbert's decades-long career, so they know and genuinely like each other, hopping on stage, sharing sets and sitting in. Other music cruises are festivals at sea, but this one is Delbert's party and the guests are happy to mingle.
Do you have your own favorite moment from the Sandy Beaches Cruise? Please share in the comments section below.