By Paul T. Mueller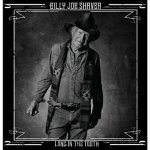 At 75, Billy Joe Shaver is no longer the young country outlaw he once was. But he's still around and kicking, and on his latest album, Long in the Tooth, he bares his (figurative) teeth on songs about several things he's not too happy about, including his old nemesis, alcohol; today's country music, and humanity's warlike ways. His mellower side shows up on a few nice love songs, and there's even a tune about growing up that features a train. Shaver is in good voice here and is backed by a fine studio band and guest appearances by some illustrious players. It all adds up to a strong effort.
Standout tracks include:
"Last Call for Alcohol," a country two-step in which Shaver sings about a lost love and the booze in which he's trying to drown her memories. "Last call for alcohol, I'm finally through with you," he sings, but it's not clear whether it's the lover or the liquor he's saying goodbye to.
"I'll Love You As Much As I Can," a gentle but honest warning to a potential romantic partner. "Remember the chance that you're taking," Shaver sings. "I'll love you as much as I can."
"Checkers and Chess" is fueled by the populist, anti-authority outlook that's long been a Shaver trademark. "Nothin's fair in this world of lying shame," he sings. "The rich man steals the money/The poor man takes the blame." The poor also get to die in rich men's wars, he later adds.
"Hard to Be an Outlaw," a duet with Willie Nelson that laments the passing of time, while taking a swipe at musical newcomers and what the old guard sees as their unearned success: "They go and call it country/But that ain't the way it sounds/Makes a renegade like me/Want to terrorize the town."
The title track is a kind of rap about growing old, but not gracefully. Points for trying, but let's face it – rap is not what Billy Joe Shaver is best at. "Music City USA" covers similar ground but a lot more effectively. It's not clear that the story of a young man who left Texas "to capture Music City USA" is autobiographical – that story line could apply to a lot of people – but it might as well be. "That crazy fool with shaggy hair has spread his songs out everywhere," Shaver sings. "I reckon he done captured Music city USA."
Four of the album's 10 tracks were co-written with Gary Nicholson and two with Ray Kennedy; the two Nashville veterans also co-produced the album. They had some good material to work with – the "Can't Hardly Playboys" studio band consists of guitarists Dan Dugmore and Jedd Hughes, bassist Michael Rhodes and drummer Lynn Williams. Also contributing is a long list of excellent guest artists, including Leon Russell, Tony Joe White, Larry Franklin, Mickey Raphael and Joel Guzman, among others.
Follow Americana Music News on Twitter.