By Ken Paulson–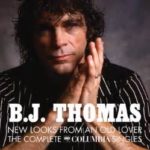 We've written in the past about B.J. Thomas' continuing vibrancy as an artist, most recently during his appearance at the Franklin Theater in greater Nashville this spring.
His concert longevity has been fueled by multiple decades of hits, as we're reminded by the new Real Gone Music release New Looks from an Old Lover: The Complete Singles.
Thomas had his first hits on Scepter Records in the '60s, piled up more hits in the '70s on MCA and ABC and then gracefully moved to Columbia in 1983, where he had several more hits, largely on the country charts. On top of all of that, he had a highly successful career in Christian music.
None of this new collection is "Raindrops Keep Fallin' On my Head," but it's well-crafted and throughly enjoyable pop music by one of the genre's best vocalists.
Highlights include "As Long as We've Got Each Other," (Yes, from Growing Pains), "New Looks from an Old Lover," "Whatever Happened to Old-Fashioned-Love," "Two Car Garage" and "Rock and Roll Shoes" with Ray Charles.