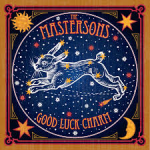 By Ken Paulson
We first saw the Mastersons two years ago on a Cayamo cruise and were knocked out by their tight harmonies and penchant for great hooks.
Those traits show up in abundance on their second album Good Luck Charm on New West Records. Chris Masterson and Eleanor Whitmore, also members of Steve Earle's Dukes and Duchesses, make for an impressive duo and their new album is even more fully realized than their first, Birds Fly South.
While not overtly political, the title track and "Uniform" make their points in highly melodic settings. "Closer to You" is a reminder to break down the barriers that keep us apart, a serious message delivered in an upbeat vessel.
There are songs of love and lost love, all with the engaging hooks and harmonies that drew us to the Mastersons in the first place.
Masterson and Whitmore have clearly committed themselves to releasing great sounding songs that say something. Mission accomplished.
Follow Sun209 on Twitter at @Sun209com.
Tags
Related Posts
Share This