by Paul T. Mueller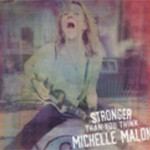 A sense of joy pervades Stronger Than You Think, the latest album from Georgia-based folk-rocker Michelle Malone. Joy in its fullest sense – darkness as well as light – informs Malone's lyrics, but beyond that, there's the sheer joy of music – writing it, singing it, playing it, sharing it. Stronger's 13 tracks are filled with all kinds of joy, making for a richly rewarding listening experience.
Malone has been working at this music business for a few decades now, and it seems she's got it pretty well figured out. She's a fine singer, equally comfortable with belting out a rocker or crooning a quiet ballad. She's also a terrific guitarist, acoustic or electric, and adept on the mandolin and harmonica. She ties it all together with strong production skills, here shared with Gerry Hansen. You get the sense that Malone knew exactly what she wanted out of this album, knew how to get it – and did so.
Stronger gets a strong start with "Stomping Ground," a Tom Petty-esque, mid-tempo rocker that combines nostalgia for youthful experiences with the recognition that while you can revisit the past, you can't go back to it. The next track, "Vivian Vegas," may or may not be straight-up autobiographical. "I got kicked out of three high schools trying to get my rock and roll degree," Malone declares over a fast rockabilly beat, without a hint of regret. "I've always been in trouble," she concludes gleefully, "and trouble's always been in me."
Other highlights include:
"My Favorite T-Shirt," a defiant breakup song, with equal measures of bitterness at a former lover and exultation over newfound freedom. Singing with the venom of the ill-treated, Malone's narrator demands the return of the titular T-shirt ("the one that I bought at the Stones concert/When you said no one would ever love me like you do") and notes "I stayed, you held me like a crutch/I stayed 'til I got up the courage to run."
"Keep My Head Up," a slide guitar-fueled affirmation of the power of persistence: "When I want to quit/I talk to myself/I say, 'Girl, you got this/You know you're stronger than you think.' "
"Ramona," a heart-wrenching ballad about old age, told from the point of view of a middle-aged daughter dealing with her mother's slow, painful decline. "She says, 'Ramona, how many husbands did I have?' " Malone's narrator sings. " 'Tell me, Ramona, why did I ever leave Birmingham?' "
Other players include Hansen and Vic Stafford on drums, Davis Causey on electric guitar, Ben Holst on lap steel and electric guitars, Michael Steele on bass, and Trish Land, credited with "tambo-bomb and shakery things." Backing vocalists include Amy Ray (Indigo Girls) and Kristian Bush (Sugarland), each of whom co-wrote one song; the rest are credited to Malone.
Malone dedicated this album to "those of you who are fighting the good fight." This is something she knows a lot about; the album is the product of her struggles, and more importantly of her response to them. It's the work of an artist at the peak of her creative powers, wiser with maturity but still driven by the passion of youth.
Michelle Malone has always had an enthusiastic fan base; Stronger Than You Think makes the case for a much larger one.
Tags
Related Posts
Share This