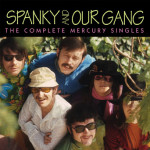 By Ken Paulson
Spanky and Our Gang, a harmony-driven group whose best moments rivaled the Mamas and Papas, are celebrated in The Complete Mercury Singles, a new collection from Real Gone Music.
Lead singer "Spanky McFarlane" and the group had eclectic musical tastes, but their singles were often transcendent pop, beginning with the 1967 hit "Sunday Will Never Be the Same."
In a two-year span, Spanky and Our Gang had four more Top 40 singles: "Making Every Minute Count," "Lazy Day," "Sunday' Mornin'" and "Like to Get to Know You."
There are some revelations here, including a spirited cover of the Beatles' "And Your Bird Can Sing" and "Echoes," an early recording of Fred Neil's "Everybody's Talkin'," later a hit for Nilsson.
Their socially conscious "Give a Damn" stalled at #43, in part because radio programmers were startled by the use of a four-letter word. It was a call to action and a thought-provoking record that deserved a better fate.
The group never regained its commercial momentum and member Malcolm Hale died from pneumonia at the age of 27. The group disbanded before the end of the '60s.
It was a short, but often brilliant run of pop music. The Complete Mercury Singles truly captures the best of Spanky and our Gang.
Follow Sun209 on Twitter at @Sun209com.
Tags
Related Posts
Share This