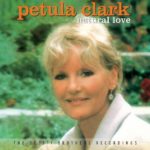 By Ken Paulson
Petula Clark is about to release a new album. Yes, at age 83, she has a new collection called From Now On, set for release on September 30. That will mark an astonishing 74 years since she first stepped to a microphone to sing on the radio at age 9 during World War II.
Most of us know her from her amazing run in the '60s, turning out some of the finest pop singles of all time, including "Downtown," "I Know a Place," "My Love" and "Don't Sleep in the Subway."
Yet after that chart-topping success, there were relatively fallow years, even though she kept recording. Natural Love, a new collection from Real Gone Music captures an intriguing chapter of her career in the early '80s when she was signed to Scotti Brothers Records and was recording songs with a country flavor.
That made sense. Olivia Newton-John had enjoyed extraordinary success blending pop and country. Surely Petula Clark could do the same.
The career move started promisingly with "Natural Love," a top 20 country hit in 1981. But there were no more hits in a country vein and the label didn't even issue an album.
Natural Love remedies that, with 11 tracks from the Scotti Brothers years. There's a notable cover of the Fred Rose song and Willie Nelson hit "Blue Eyes Crying in the Rain," and the playful "I Like What I'm Looking At" should have been a hit in an era of Janie Fricke and Barbara Mandrell.
Included are two songs written by Clark – "Because I Love Him" and "Darkness" – and a cover of "Edelweiss," a song Petula Clark performed at the time in a revival of The Sound of Music.
Natural Love is a worthy addition to the recorded legacy of one of the most successful pop singers of the 20th – and now 21st – century.
Tags
Related Posts
Share This