May 28, 2013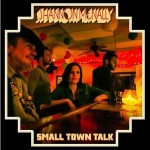 By Ken Paulson
We're still kicking ourselves for missing Shannon McNally's show in Nashville last week, but she's still on the road (St. Louis tonight) touring in support of Small Town Talk, her touching tribute to the late songwriter Bobby Charles. We first heard the title tune (a Charles-Rick Danko co-write) on a Jackie DeShannon album four decades ago and went on to discover just how remarkable a songwriter Charles was.
Charles wrote "See You Later Alligator," a hit for Billy Haley and the Comets, and "Walkin' to New Orleans," the Fats Domino classic, but this collection showcases McNally's lesser known and solo material. McNally's soulful vocals and the playing of Dr. John and the Lower 911 Band make Small Town Talk a vibrant and funky celebration of an under-recognized songwriting talent.
Vince Gill joins McNally on "String of Hearts," and Luther Dickinson and and Derek Trucks are on  hand as well.
You can hear McNally in concert through mid-July:
May 28 – St Louis, MO – The Old Rock House
May 29 – Kansas City, MO – Knuckleheads Saloon
May 30 – Chicago, IL – Martyrs'
May 31 – Goshen, IN – Ignition Garage
Jun 02 – Lincoln, NE – In-Store @ Barnes & Noble
Jun 02 – Lincoln, NE – The Sunday Roadhouse @ Zoo Bar
Jun 16 – Memphis, TN – Foxfire Ranch
Jun 21 – Austin, TX – Threadgill's Presented by KGSR 
Jun 22 – Dallas, TX – Sons of Hermann Presented by Gold Teeth Music
Jun 25 – Santa Fe, NM – Santa Fe Bandstand 
Jun 26 – Albuquerque, NM – Low Spirits 
Jun 29 – Boulder, CO – The Fox Theatre 
Jul 07 – Bozeman, MT – Live From The Divide @ Peach Street Studios
Jul 15 – San Francisco, CA – Cafe Du Nord
Follow Sun209 on Twitter at @sun209com.