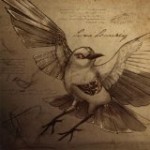 By Paul T. Mueller
When a musician's previous album is excellent, it makes it that much more frustrating when the follow-up doesn't measure up. Such is the case with Levi Lowrey's recent self-titled disc. Levi Lowrey isn't exactly bad, give or take a song or two. A lot of what made Lowrey's 2012 release I Confess I Was a Fool so good is also there this time. The playing and singing are still excellent and Lowrey still has a crowd of talented musicians helping out. But somehow the whole is less than the sum of the parts.
One problem is the writing. While Lowrey wrote 10 of the 12 songs on I Confess , he takes sole credit on only four of the current CD's 15 tracks. The result is that Levi Lowrey comes across as less of a personal statement and more of a calculated attempt to appeal to a broader audience. The busier production and glossier sound suggest the same. Not that there's anything wrong with an overdubbed guitar solo here and there, but the quiet honesty that marked I Confess is not so evident in its successor.
There are some high points. "December Thirty-One" makes the case for moving on from tough times – "Yeah, leave them all behind/Way back there in time/December thirty-one/Eleven fifty-nine." "Trying Not to Die" is about taking chances instead of playing it safe, while "That Is All" offers a bracing response answer to those who claim to know all the answers when it comes to faith: "I don't know, I don't know/Feels so good to say it's so/That God is God and man is man/That is all."
There are a couple of songs that could easily have been left off. "High and Lonesome" advocates dealing with romantic disappointment with chemicals – not an original idea, but not really a good one either. And it's hard to imagine why anyone thought it would be a good idea to close the album with an upbeat rendition of "War Pigs," Black Sabbath's hoary antiwar rant from 1970.
Content aside, it's hard to find much fault with the singing and playing here. Lowrey's voice and playing (on guitar and fiddle) are as excellent as always, and his core band – guitarist Danny McAdams, bassist Jon Daws and drummer Lawrence Nemenz – provides strong backing. There's a long list of contributors, led by Mac McAnally on guitar and piano and including co-producers Matt Mangano (guitar and vocals) and Clay Cook (vocals and a long list of stringed and keyboard instruments).
Tags
Related Posts
Share This