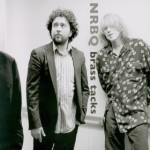 By Bill Lloyd
I became a fan of NRBQ sometime around 1980.  I was completely smitten with their sound and vibe and I couldn't believe I hadn't "gotten it" earlier. I had previously never paid them much attention thinking they were simply a '50s throwback band. Oh, how I was wrong!
They had already gone through several personnel changes in lineup since their late '60s beginnings. I felt late to the party at the time, but it really didn't matter as they were at their peak as an amazing live act and fearless recording artists. Their appeal was eccentric and scattershot and hard for record companies to market, but they deftly hit all the musical touchstones for me.
Their self-described "omni-pop" was a mix of classic rock-pop, country, rockabilly, Monk-inspired jazz and the kitchen sink. If they liked it, it was in the musical stew and they threw in some goofy humor for good measure.
For many, their records came with the caveat that you had to see them live where they would raise the roof with crazy-good energy. They rarely played to a set list and you never knew what was coming next. They played their own material but there was always a load of unexpected covers that seemed spur-of-the-moment, but were performed with jaw-dropping musicianship. The best part was that there was no fashion or show-biz or pretense about them. It was honest joy pouring off the stage and through the audience. I was hooked and would see them every chance I got.
During this era of the band's career (1974-1994), NRBQ housed three strong songwriters in Big Al Anderson, Joey Spampinato and founder Terry Adams. The 4-man lineup, along with their great drummer, Tommy Ardolino, is still considered by many fans, as the "classic lineup".
From this version of the group, Big Al broke rank first and came to Nashville to write songs, play guitar and make records and, without qualification, succeeded on every kind of level. Al's first replacement for the 'Q was Joey's younger brother, Johnny, from The Incredible Casuals. He seemed a perfect fit with some really good songs and fine guitar playing. After a few more years and some wonderful studio and live albums, NRBQ went on hiatus in 2004 when Terry Adams received a cancer diagnoses.
The Spampinato Brothers went off to make their own fine records. As Terry's health began to return, he made a wonderful record with original guitarist Steve Ferguson shortly before Ferguson passed on and then began playing with his own Terry Adams Quartet. Tom Ardolino would guest sometimes with Terry, but Tommy's own failing health kept his appearances sporadic. He passed in 2012. Terry Adams decided to reclaim the name of NRBQ in 2011 with the members of his own quartet.
All this history is meant to be a glimpse into the backstory of Terry Adams' amazing persistence and musical vision of what a band ought to be. I heard the "new Q" live in 2012 with Scott Ligon, Pete Donnelly, Conrad Choucroun and rejoiced that the renamed quartet totally captured the wonderful vibe that every version of the band had before them. At the show, I bought their cd, "Keep This Love Goin'", and found the spirit of the band still in the grooves. My only disappointment with their recording was that I felt that the songwriting in the new band didn't have the same depth that the "classic" lineup with Big Al and Joey had. I was, as a fan, a bit judgmental and holding on to old allegiances.
It's 2014 and there's a new NRBQ album scheduled for release June 17 called Brass Tacks. As I listened to it, I found my "happy meter" starting to peg. Couldn't stop smiling as one track played after another. One of the first things I noticed as I let it wash over me is that it's a great sounding record from a sonic point of view. Really well recorded and mixed with cool and thoughtful sonic touches throughout. The songwriting is spread out among Adams, Ligon and new bassist, Casey McDonough. Longtime sideman/sax-man, Jim Hoke is also represented with the charming Everlys-like "I'd Like To Know".
All of the music feels and sounds great and, for longtime fans, covers beloved familiar stylistic ground. It's not fair to compare a new batch of songs to the best of the Spampinato and Anderson songs from years past. Maybe it's not fair to compare Adams songs to the best of his own work over the years.
As a fan, I'm happy he's healthy, recording and touring. Throughout the NRBQ catalogue, those guys wrote songs that could compete with their heroes – McCartney, Bacharach, whoever.  The songs on "Brass Tacks" are also informed by their influences. I would guess that, for the newer members of the band, their influences would include Adams, Anderson and Spampinato. It's not an easy thing to hold your creative ground and hold up a 40- plus-year legacy at the same time.
Scott Ligon must have absorbed every musical nuance the old "Q" had to offer. When you see them live, his voice and guitar covers ground that both Anderson and Spampinato held. He can powerhouse-telecaster his way through jump blues and rockabilly and then turn on a dime and sing some sweet Beatlesque-pop, one of Spampinato's fortes. Ligon's songs on "Brass Tacks", in particular his acoustic "It'll Be Alright", transcend imitation and he's proven to be Adams' reliable partner in the "new Q". Adams offers some wonderful new compositions. "Places Far Away" is an atmospheric and lyrical treasure. "Greetings From Delaware" echoes their classic "Green Light," but is that a bad thing? Nope.
NRBQ has always been as much about taking cover material and making it their own and their take on Rodgers and Hammerstein's  "Getting To Know You" is such a perfect choice.
Despite whatever musical ghosts are along for the ride, this album holds its own. Excellent singing, playing and bottom line still the joyous feeling that you get when you hear NRBQ play. Thank you Terry Adams for keeping on keeping on.
Bill Lloyd is a Nashville-based songwriter whose songs and own recording career has swung between genres and formats. With country success as part of the Foster and Lloyd duo and power-pop critical acclaim from his many solo records, Lloyd's appreciation of NRBQ comes honestly. He has also written songs with Al Anderson including "It Came From The South".
Tags
Related Posts
Share This