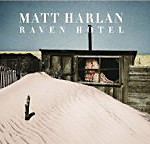 by Paul T. Mueller
Houston-based singer-songwriter Matt Harlan isn't one of those musicians who puts out an album every year – his last was released in early 2012 – but you can bet that when one does finally show up, it's worth the wait. Raven Hotel is an excellent showcase for Harlan's writing, playing, singing and production skills.
The album's second track is titled "Half Developed Song," but that may be a little inside humor (it's actually about getting past everyday obstacles and getting on with life). There's nothing half developed about any of Raven Hotel's 12 songs. All are carefully written, skillfully played and sung. Clean production, for which Harlan and Rich Brotherton share credit, makes the most of them.
The title track deals with the struggle to maintain human connections in a busy world. "I'm living in my own world now, you can stop by if you like," Harlan sings, " 'Cause I'll forget to call and I'll forget to write." Even more personal is the love-is-tough theme of "We Never Met (Time Machine)." "Well, it's hard to be your lover, and it's hard to be your friend," goes the second verse. "When you don't offer no forgiveness, it's a game nobody wins."
In "Second Gear," a father's instructions to his child during a driving lesson ("Drop it down another gear/The roads are slick this time of year") turn into larger life lessons ("You'll find a higher place that you can climb to/Just leave a trail to show them where you've been"). "Burgundy and Blue," a sweet love song, marks a departure from Harlan's usual folky style – it's done as a jazz ballad, backed by the smoky tenor sax of John Mills.
Harlan's wife, Rachel Jones, gets the vocal spotlight on "Riding with the Wind," an ode to freedom that Harlan has said was written with her voice in mind. She also contributes nice harmony vocals on several other songs.
Other members of the all-star cast Harlan and Brotherton assembled for this project include Bukka Allen on organ, piano and accordion (the latter used to good effect on "Old Allen Road," a dark tale of implied violence); Maddy Brotherton on violin; Floyd Domino on keyboards; Glenn Fukunaga on bass; Jon Greene on drums, and Mickey Raphael, best known for his long association with Willie Nelson, on harmonica, best heard on the wistful "Slow Moving Train." Brotherton, who's the longtime lead guitarist in Robert Earl Keen's band, contributed on guitars and several other stringed instruments, as well as synth and vocals.
Follow Sun209 0n Twitter at @Sun209com.
Tags
Related Posts
Share This