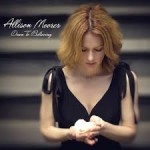 Allison Moorer – Down to Believing – eOne Music – We first heard the songs from Allison Moorer's new album Down to Believing at the Americana Music Festival in Nashville six months ago. Her performance was riveting, supported by a stellar band that included album producer Kenny Greenberg on guitar. The new material was vibrant and soul-baring, and the recording fulfills the promise of that September night. Down to Believing reflects Moorer's personal story, from her divorce from Steve Earle to her son's autism diagnosis. With all respect to Moorer, those aren't necessarily themes that would invite repeated listening. The power in Down to Believing comes from marrying intimate and confessional lyrics to compelling musicality, exemplified by soaring album opener "Like It Used to Be."
Other new and recent releases:
Red Heart Alarm – Hammer Anvil Stirrup This Seattle—based band calls its music "Gruntry," an amalgam of country and the region's grunge history.
Little Texas – Young For A Long Time – Cleopatra Records These early '90 country hitmakers are back with a new studio album and a national tour that begins at the Florida Blueberry Festival in Brooksville, Florida on April 12.
Vanish Valley – Queen of the Concert – Hard Bark Los Angeles band Vanish Valley is set to release its second album Queen of the Concert on May 12. The project, recorded in less than a week, is fueled by the songwriting of Andrew McAlister.
Stacy Jones – Whiskey Wine & Water Stacy Jones, named best female vocalist in 2014 by the Washington Blues Society, has a new studio album, released March 27.
Follow Americana Music News on Twitter and Facebook.
Tags
Related Posts
Share This