Sound & Color – Alabama Shakes – ATO Records – Alabama Shakes' second album is a statement of extraordinary confidence from a young and ambitious band.
It would have been so easy to echo the sounds and success of debut release Boys & Girls. Instead Sound & Color is a bold amalgam of soul, psychedelia, rock and electronica.
For every heart-rending ballad like "Give Me All Your Love," there's a punk-propelled "The Greatest" or Stones-influenced 'Shoegaze."
Brittany Howard's vocals are stunning throughout, giving these far-flung sounds a soulful core. Alabama Shakes are in it for the long run.
The Light – Uncle Lucius – Boo Clap/Thirty Tigers Due June 9, the fourth album from the Austin-based band will be their first independent release since exiting a label deal.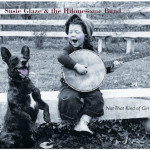 Not That Kind of Girl – Susie Glaze and the Hilonesome Band – Produced by Herb Pedersen – Suzie Glaze's website touts her band as a "Newgrass Americana Folk Fusion Quartet," but that's probably working too hard. As Not That Kind of Girl firmly establishes, this band plays engaging bluegrass and Celtic music, eagerly drawing on a wide range of influences and inspirations. A highlight: A sweet cover of J.D. Souther's "Prisoner in Disguise."
Melancholy Sea – The Pinder Brothers The opening few seconds of Melancholy Sea bring  "Lucy in the Sky with Diamonds," to mind, an apt influence for the Pinder Brothers, whose father Mike Pinder was a founding member of the Moody Blues. Deft melodies and harmonies abound on this third album from the duo.
Tags
Related Posts
Share This