New Americana, folk and soul releases: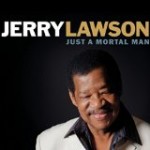 Just a Mortal Man – Jerry Lawson – Red Beet Records -Jerry Lawson's  Just a Mortal Man is a joyous surprise. The 71-year-old lead singer of the Persuasions has just released his first solo album. His rich voice remains a revelation, and the smart song selection showcases his gifts. Highlights include Paul Simon's "Peace Like A River" and producer Eric Brace's "Time and Water." Guests include the McCrary Sisters and Jim Lauderdale. He'll be in Nashville on June 5 for a show at the Station Inn.
Traveller – Chris Stapleton – At 37, Chris Stapleton is finally releasing a much-anticipated solo album. He was the lead singer for the Steeldrivers and has had amazing success as a songwriter. Billboard Magazine has a great feature on his songs, as recorded by Adele, Jason Aldean, Blake Shelton, Lee Ann Womack and many more.
The Traveler – Rhett Miller – What are the odds that Chris Stapleton and Rhett Miller would release new albums with almost identical titles? Here Old 97's frontman Miller teams up with Black Prairie, with guest spots by Peter Buck and Scott McCaughey of REM
Hope You're Happy Now – Grant Langston – The new album from Grant Langston is out now; publicity materials offer this description: "This new record is dark, moody and veers into the downright somber."
Alicia Michilli – Alicia Michilli – We met Alicia Michilli on a plane flying back from the Grammy Awards. She's from Detroit, but has moved to Nashville to launch her career. Her self-titled EP makes a great first impression. Despite her 22 years, she has an impressive feel for classic '70s soul, as evidenced by the five original tracks. And check out her salute to Etta James here.
My Crazy Head – Levi Lowrey – Out now is the new release by Levi Lowrey, described in press materials as his "most revolutionary album yet."
A Light That Never Dies – KaiL Baxley – Forty Below Records – Set for release on June 2, KaiL Baxley's second album was co-produced with Eric Corne.
Pat McGee – Pat McGee – This solo album from the Pat McGee Band leader features an impressive array of session players and guest talent, including Russ Kunkel, Leland Sklar, Waddy Wachtel, Danny Kotchmar, Jeff Pevar, Paul Barrere, John Popper and Pat Monahan.