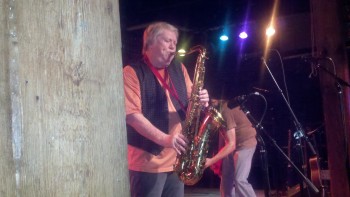 By Ken Paulson
(This article first appeared in May 2011 on Sun209. Bobby Keys passed away this week.)
There was a moment in Bobby Keys' show at the Mercy Lounge when it dawned on everyone just how pivotal a player in rock history he is. Sure, we knew of his long association with the Rolling Stones and his short, but fruitful association with Joe Cocker's Mad Dogs and Englishmen, but then he told a sweet story about hearing his saxophone on the radio for the first time, and how he wished his girlfriend had been there to hear it. And then he played "The Wanderer."
It was an apt reminder that throughout the first three decades of rock 'n' roll, Key's sax was at the heart of both AM and FM radio, including such songs as "Brown Sugar," "Whatever Gets You Through the Night" and Bitch", as well as albums by George Harrison, John Lennon, Ringo Starr, Warren Zevon, Nilsson, Eric Clapton, Faces and dozens more.
Keys' playing is still vibrant, and he's joined by a terrific band that includes Dan Baird (Georgia Satellites) on lead vocals and Michael Webb (Poco) on keyboards.
This isn't an oldies show; it's a loose and lively celebration of an iconic career, and it does the man justice.
Tags
Related Posts
Share This