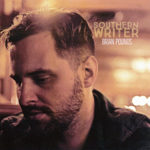 By Paul T. Mueller – Brian Pounds says he's not interested in trying to compete in the pop arena with others who are better at crafting upbeat songs. "My goal in life," he has said of his affinity for the darker side, "is to write your 'Break in case of emergency' album."
Pounds' recent collection, Southern Writer, stakes a credible claim to that ambition. The Austin-based singer-songwriter, whose credits include a finalist slot in the Kerrville Folk Festival's New Folk songwriting contest and an appearance on "The Voice" a few years ago, leans more toward country than folk on the nine-song set.
He deals with themes including old age and lost love ("Rattling My Bones"), loneliness ("I Swear I'm Losing You," "Chandelier"), and the loss of an old friend ("The Death of Me"). Pounds backs up his thoughtful lyrics with fine guitar skills and an expressive voice, equally convincing on a powerful soul lament ("Falling to Pieces"), a straight-up country ballad ("Mississippi Highway") and a gentle lullaby for his baby daughter ("Darling, I'll Be Here"). The self-produced Southern Writer is short on amenities such as packaging and documentation, and could have benefited from a bit more vocal clarity, but the music hints at better things ahead.